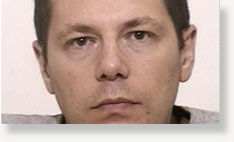 Toronto police have charged a male nurse employed at a city-run long-term care facility with sexually assaulting a 70-year-old resident.
Leonid Kozlov, 45, who works at Castleview Wychwood Towers, near Christie and Dupont streets, was arrested Monday.
A woman was allegedly assaulted as she lay in her bed at about 3 a.m. ET on Monday, police said.
Another staff member reported the assault.
Kozlov has worked at the home for five years, police said.
"I felt a little sick to my stomach," said a resident who did not want to be identified because staff told her not to talk to the media.
She said she was shocked when she saw a picture of Kozlov.
"He's kind, he's nice. Never, never would I ever suspect him."
A city-run home has never been at the centre of this type of allegation, said Reg Paul, the director of administration and support services for the city's long-term care homes.
"In addition to the police reference check of course, we are very diligent in our hiring practices, in screening," Paul said.
He said his department has put out a notice for residents and their families asking them to contact police if they have information about other possible victims.
Kozlov appeared in court on Monday.