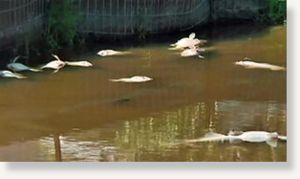 Jacksonville, Florida -- People living near a Northside pond said toxic chemicals from a construction site may be what has killed hundreds of fish.
Residents who live near the pond off Oak Lawn Road said they've enjoyed the pond for years, calling it a place of relaxation where they can appreciate nature and do a little bit of fishing from time to time.
But they said that, over the weekend, the pond developed a strong odor and had dead fish floating all over it.
"A lot of the fish is dead, and it's giving off a pretty bad smell as well," said Alonza Dicks, who has lived on the pond for five years.
Resident Katrina Williams, who has been going through chemotherapy for breast cancer, said she used to enjoy hanging out by the pond in her back yard, but now just being near it is making her sick.
"I had to leave and go into the bedroom in order to breathe," Williams said.
So for the past few days, Williams said she has had to wear a mask.
"I can't go out on the patio because it's a health issue for me. I'm stuck in here," she said.
No one knows for sure what's wrong with the pond. Researchers with the Florida Department of Environmental Protection and the city are running tests to find out. But several neighbors said they suspect chemicals that have run off from a nearby construction site may be to blame.
"Whoever's responsible, which we don't have to look very far, they should step up and take care of it," Dicks said.
Dicks, who originally stocked the pond with nearly 1,000 fish a few years back, said last week's storms washed out toxic chemicals he believes were dumped near a home under construction. A trail of chemicals coming from the house into a storm drain, which leads directly to the retention pond, could be seen Monday, Channel 4's Vic Micolucci said.
"Being courteous, being mindful of what the worst-case scenario can be when dealing with toxic products," Michael McNeal, of the homeowners association, said of what residents need to be aware of.
Residents who live in the neighborhood said the body of water has always been a place for the community to get together and enjoy the Florida lifestyle. But now everyone's staying away.
"Unfortunately, that's not going to happen now until we get the problem rectified," McNeal said of hanging out by the water. "And the cost associated with it is unknown."
While the city and state are still investigating, neighbors said they've gotten a little bit of help. On Monday, a company came by and volunteered its time cleaning up the dead fish and disposing of them properly.
The home builders from the construction site said they are aware of the allegations and are actively looking into them. They said they are known for keeping clean sites and being environmentally responsible.
A spokesperson from the DEP told Channel 4 investigators did not any find evidence to tie the fish kill to the construction site.
"At this time there is no reason to suspect any illegal a dumping to have occurred at the site," said spokeswoman Dee Ann Miller. "The City of Jacksonville will be conducting some additional water quality testing."