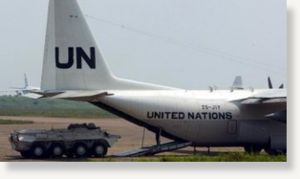 At least 26 people were killed when a United Nations plane crashed on landing in heavy rain at Kinshasa airport Monday, a Congolese aviation offical said. The plane was operated by the UN mission in the Democratic Republic of Congo, Monusco.
A U.N. plane carrying staff members and peacekeepers crashed Monday upon landing at the airport in Congo's capital, breaking into pieces and killing at least 26 people, a top Congolese aviation official said.
The cause of the crash was not immediately known, and six other people were injured in the crash.
"A crisis task force is working at the crash site," U.N. spokesman Martin Nesirky said.
The top Congolese aviation official, who spoke on condition of anonymity because he was not permitted to speak to the media, said the plane was traveling from Kinsangani to Kinshasa.
The U.N. mission in Congo, known as MONUSCO, includes more than 19,000 uniformed peacekeeping troops. The mission is charged with protecting civilians in the enormous Central African nation wracked by violence from a myriad of rebel groups and militias.
Few passable roads traverse Congo after decades of war and corrupt rule, forcing the country's deeply impoverished people to rely on ill-maintained planes and boats to move around. Congo has one of the worst air safety records in the world. The Central African country's safety regulations are notoriously lax.
Source: The Associated Press