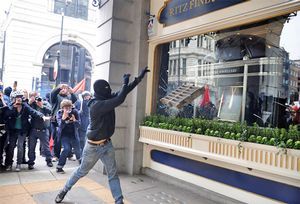 MPs are demanding to know why the police arrested and charged so many peaceful protesters at Saturday's anti-cuts demonstration, while letting off those who attacked shops and banks and damaged monuments.
Demonstrators who took part in the sit-in at luxury grocer Fortnum & Mason, organised by campaign group UK Uncut, are bearing the brunt of police and prosecutors' attentions.
The Metropolitan Police detained 201 people on Saturday, as they battled break-away factions of activists targeting shops in London's West End. A total of 149 have been charged in connection with the protests - 138 of them (94 per cent) face criminal charges of aggravated trespass at the high-end store, with only 11 charged for the more violent protests elsewhere in the capital, including serious disturbances in the West End during which police were pelted with ammonia-filled lightbulbs.
Campaigners insist no major criminal damage was committed inside the store, whose management said the only physical losses from the protest consisted of the theft of an unspecified number of bottles of wine and champagne. The company said the closure of its business on Saturday afternoon had cost it £80,000 in lost trade.
David Winnick MP, a senior Labour member of the Commons' home affairs select committee, said it was "very strange" that protesters involved in the Fortnum & Mason sit-in featured so heavily in the break down of those charged. "The people who went into Fortnum & Mason were not involved in violence," he said. "They were told that if they left the building they would not be charged, and they were. Why isn't it that the large majority of the arrests were of people who were engaging in violence?"
The Green MP Caroline Lucas also criticised police tactics: "That the majority of those arrested and charged on Saturday were not violent thugs posing a risk to others but participants in a peaceful sit-down protest betrays a serious failure of judgement."
Raj Chada, a solicitor representing several of those arrested and a specialist in public order law, said that contrary to normal police practice it appeared that suspects had not been formally interviewed about the reason for their arrest. Instead, detained protesters were asked a single question before being charged with aggravated trespass, an offence originally drawn up to deal with hunt saboteurs.
Mr Chada said: "The manner in which these arrests were carried out raises a number of serious questions. Is the act of conducting a peaceful sit-in protest now being treated as a criminal act? On the information that we have to date, many of these protesters should not have been arrested, let alone face the anguish of court proceedings several weeks away."
Organisers of the demonstration, who wanted to draw attention to the amount of tax paid by large corporations, claimed that protesters were "tricked" by police inside the store, who apparently gave assurances that anyone not suspected of criminal damage would be allowed to leave without being arrested.
A Metropolitan Police spokesman said the force could not comment while criminal proceedings were active.