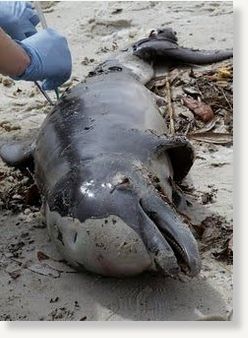 Biloxi, Mississippi - The U.S. government is keeping a tight lid on its probe into scores of unexplained dolphin deaths along the Gulf Coast, possibly connected to last year's BP oil spill, causing tension with some independent marine scientists.
Wildlife biologists contracted by the National Marine Fisheries Service to document spikes in dolphin mortality and to collect specimens and tissue samples for the agency were quietly ordered late last month to keep their findings confidential.
The gag order was contained in an agency letter informing outside scientists that its review of the dolphin die-off, classified as an "unusual mortality event (UME)," had been folded into a federal criminal investigation launched last summer into the oil spill.
"Because of the seriousness of the legal case, no data or findings may be released, presented or discussed outside the UME investigative team without prior approval," the letter, obtained by Reuters, stated.
A number of scientists said they have been personally rebuked by federal officials for "speaking out of turn" to the media about efforts to determine the cause of some 200 dolphin deaths this year, and about 90 others last year, in the Gulf.
Moreover, they said
collected samples and specimens are being turned over to the government for analysis under a protocol that will leave independent scientists in the dark about the efficacy and outcome of any laboratory tests
.
Transparency Undermined?
Some researchers designated as official "partners" in the agency's Marine Mammal Stranding Network complained such constraints undermine the transparency of a process normally open to review by the scientific community.
"It throws accountability right out the window," one biologist involved in tracking dolphin deaths for more than 20 years told Reuters on condition of anonymity. "
We are confused and ... we are angry because they claim they want teamwork, but at the same time they are leaving the marine experts out of the loop completely
."
Some question why the Marine Fisheries Service, a branch of the National Oceanic and Atmospheric Administration, or NOAA, has taken so long to get samples into laboratories.
"
It is surprising that it has been almost a full year since the spill, and they still haven't selected labs for this kind of work
," said Ruth Carmichael, who studies marine mammals at the independent Dauphin Island Sea Lab in Alabama.
"I can only hope that this process is a good thing. I just don't know. This is an unfortunate situation."
NOAA officials expressed sympathy but insisted the control and confidentiality measures were necessary.
"We are treating the evidence, which are the dolphin samples, like a murder case," said Dr. Erin Fougeres, a marine biologist with the Fisheries Service. "The chain of custody is being closely watched. Every dolphin sample is considered evidence in the BP case now."
Methodical Approach
Blair Mase, a marine mammal scientist for NOAA, said lab results would go directly back to the Fisheries Service in about two to three months.
"We have to be very methodical," Mase said. "The criminal investigation does play a role in the delay of findings, but it has to be done this way."
As of this week, scientists have counted nearly 200 bottlenose dolphin carcasses found since mid-January along the shores of Louisiana, Mississippi, Alabama and Florida, about half of them newly born or stillborn infants.
That tally, about 14 times the numbers averaged during that time of year between 2002 and 2007, coincides with the first dolphin calving season in the northern Gulf since BP's Deepwater Horizon drilling rig exploded last April.
The blast killed 11 workers and ruptured a wellhead on the sea floor, dumping an estimated 5 million barrels (206 million gallons) of oil into the Gulf over more than three months.
Nearly 90 dead dolphins, most of them adults, washed up along the Gulf Coast last year in the weeks and months following the blowout.
The latest spike in deaths, and high concentration of premature infants among them, has led some experts to speculate that oil ingested or inhaled by dolphins during the spill has taken a belated toll on the animals, possibly leading to a wave of dolphin miscarriages.
But most of the specimens collected bear no obvious signs of oil contamination, making lab analysis crucial to understanding what caused the deaths.
Mase said the carcasses also are considered potential evidence in the natural resources damage assessment being conducted in conjunction with civil litigation pursued against BP by the government simultaneously with the criminal probe.
Source: Reuters