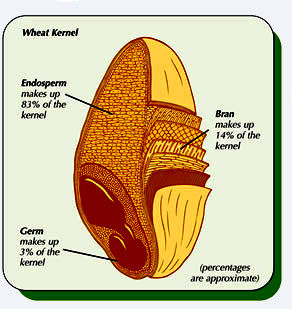 There is a jingle that goes: "The whiter the bread, the sooner you're dead!"
Bread has been called the "staff of life." Unfortunately these days most folks consume grain in its refined state and this staple contains little to no nutritive properties and cannot support animal or human life.
Wheat is the key ingredient in the American diet. But after being milled, it is seldom utilized in its whole form with its components intact. Invariably, when we eat wheat, we get it in the form of bread, pies, cakes, cookies, biscuits, spaghetti, cream of wheat, cereals, and other forms that have been treated, heated, fractioned, and fragmented until it is next to impossible to recognize it for what it was originally.
A refined grain, or its product, is made by processing a natural, whole grain so that some or most of the nutrients are lost. Almost all grain products have been refined in some way or another.
White rice, cream of wheat, cookies, and bowls of snap-crackle-and-pop each morning are all examples of refined grain products.
Why are Refined Grain Products Harmful?
Refined grains and their food products are substandard foods for several reasons:
They are excessively starchy and high in gluten.
They are practically devoid of natural fiber.
There can be up to approximately 25 different chemicals that are added to refined grains and breads products.
Grains are fumigated.
Bleaching chemicals are used.
Artificial colorings and flavorings are used.
They are nutritionally imbalanced.
Because refined grain products are nutritionally imbalanced, they are responsible for contributing to several degenerative diseases. Calcium leaching from the bones and teeth occurs because of the altered phosphorous-calcium balance in these products. Sugar and refined grain products are primarily responsible for tooth decay in this country, as well as being the major cause of brittle bones in the elderly.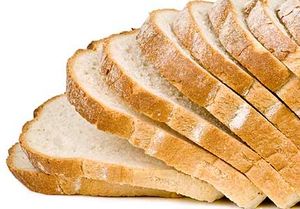 A Loaf of Chemicals
The making of bread and flour products took a real turn for the worse at the end of World War 2. Bakeries in America began using large amounts of chemicals, additives, bleaches, and preservatives.
The millers discovered they could make the flour very white by bleaching it. Other chemical oxidizers are added to bleach and "mature" the flour, such as nitrogen dioxide and azocarbonamide. Are these chemicals dangerous? Well, Germany banned all such oxidizers back in 1958, almost 40 years ago!
The next step in the chemicalization of bread is to add chemical dough conditioners to the dough to enable the resulting bread to stay fresh and soft for a longer period, without getting stale while standing on grocers' shelves.
To give this softness and white-bread texture, mono - and diglycerides are added to the bread dough at the rate of about 1/4 pound per year per person consumption. This makes the bread more squeezable and fluffy. Nobody knows the effects on those that eat such additives.
Some of the chemicals used as dough conditioners are similar to the anti-freeze mix used for automobile radiators. One of the chemicals used as a dough conditioner is polyexy ethelyne monosterate. Workers in factories where this chemical is made have been known to develop skin rashes from the fumes. Polyexy ethelyne monosterate is also used in making peanut butter, ice cream, candy, and salad dressings.
The average person eats about 100 pounds or so of commercial bread each year.
Besides eating the refined flour, the average person also eats these toxic items in the grain products: 2 pounds of salt, 3 pounds of sugar, 2 pounds of skim milk powder, 2 pounds of yeast, 1 pound of enzyme-activator, 1/2 pound of sulfate, chloride, and bromate chemicals, and 1/4 pound of other food additives.
When all of these chemicals and nonfoods are eaten together, a multi-toxic effect occurs that has never been thoroughly studied by scientists.
In Summary
The crux of the situation is that the shelf-life of products are far more important in our economy than the health and well-being of the people.
If we are to lean on the "staff of life" for nutrition, we must identify the counterfeit refined grains from the real, whole grains.
In the US, the familiar white flour which is the result of modern refining process is 72% extraction. This means that it has lost 28% of the bulk of the wheat, including half or more of many of the crucial nutrients. So for optimum health, eliminate all refined flour products from your diet and use only whole grains.
Comment:
For optimum health eliminate grains such as wheat all together. The videos and articles below contain important information about the negative health effects of gluten found in wheat and many other grains and why Gluten should be avoided completely.
Dr. Peter Osborne of the Gluten Free Society discusses Gluten Sensitivity and the negative health effects of Gluten found in
all grains
:
What is gluten intolerance?
How Gluten Damages the Brain With Dr. Parker
Articles on the negative effects of gluten:
Is gluten from grains making you sick?
New England Journal of Medicine: Gluten Can Cause 55 Diseases
Gluten: What You Don't Know Might Kill You
The Dark Side of Wheat - New Perspectives on Celiac Disease and Wheat Intolerance
Opening Pandora's Bread Box: The Critical Role of Wheat Lectin in Human Disease
Why is Wheat Gluten Disorder on the Rise?
What Causes Celiac Disease?



Celiac disease, also more casually referred to as wheat- or gluten intolerance, occurs when your body cannot digest gluten, a protein most commonly found in wheat, rye and barley. However, it's very important to realize that these are not the only culprits that can cause severe problems. Other grains such as oats and spelt also contain gluten, and gluten can be found in countless processed foods without being labeled as such.

"Gluten" comes from the Greek word for glue, and its adhesive properties hold bread and cake together. But those same properties interfere with the breakdown and absorption of nutrients, including the nutrients from other foods in the same meal.

The result is a glued-together constipating lump in your gut rather than a nutritious, easily digested meal.

The undigested gluten then triggers your immune system to attack the lining of your small intestine, which can cause symptoms like diarrhea or constipation, nausea, and abdominal pain.

In more recent years it's been shown that the condition can also cause a much wider array of symptoms that are not gastrointestinal in nature, further complicating proper diagnosis.
Resources for a Gluten Free Diet
The Gluten-free Diet

A gluten-free diet means not eating foods that contain wheat (including spelt, triticale, teff, and kamut), rye, barley and oats. The foods and products made from these grains are also not allowed therefore food label reading is a must. Hidden sources of gluten include food additives such as modified food starch, preservatives, and stabilizers along with medicines, anti-acids, vitamins, supplements and beverages.
Buckwheat - A Super Food!
Buckwheat: Gluten-Free Grain Substitute Offers Complete Vegetarian Protein
Buckwheat is a gluten-free complete protein

Although many people think of buckwheat as being a grain, it is actually a fruit seed related to rhubarb and sorrel. Buckwheat flowers are highly fragrant, making them attractive to bees which use them to produce dark, richly flavored honey. Buckwheat has been grown in American since colonial days, and was once a common food on tables in the northeast and north central U.S. before being replaced by nutrient poor processed white flour primarily from wheat.

Although buckwheat has the look, feel, taste, and versatility of grain, buckwheat is not technically grain, and it contains no gluten. What it does contain is a full spectrum of essential amino acids, making it one of the few vegetarian sources of complete protein that equals the protein of fish or meat in quality.

Buckwheat has a nutty, rich flavor that complements many dishes. Its versatility allows it to replace meat in many recipes. Pure buckwheat flour can replace processed white flour almost across the board.
In addition read the
Diet & Health
section on the forum for gluten free recipes and additional discussions about health and wellness.