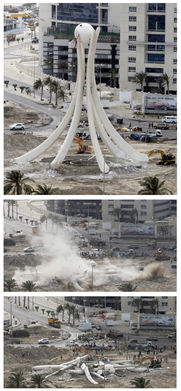 Doctors arrested or prevented from working as martial law in tiny Gulf state approaches second week
Bahrain's two main hospitals remain surrounded by masked soldiers despite demands from America that the kingdom must ease its violent crackdown on demonstrators and the medical workers treating them.
Soldiers also continue to patrol all main roads in the capital Manama and have cordoned off access to the former hub of the protest movement, Pearl Roundabout, which was
destroyed under government orders on Friday
, denying the restive demonstrators a focal point.
The tiny Gulf state has the feel of a nation under siege as it approaches a second week of martial law imposed for three months by its besieged rulers. In addition to the troop presence, neighbourhoods remain largely empty; large, glitzy shopping malls have been virtually abandoned and helicopters regularly buzz over the debris-strewn scenes of recent street clashes.
Hospitals, particularly the Salmaniya medical clinic near the centre of town, have received extra attention, largely because of the significance they have taken on since the protests began in January.
As well as being used to treat hundreds of casualties, nearly all of them unarmed protesters, the hospitals served as rallying points for protesters, who took refuge from riot police in the relative safety of their grounds.
Salmaniya was one of several hospitals attacked by security forces during the week. Their entrances clearly show scuffs from rubber bullets and teargas canisters, as well as sound grenades were found well inside hospital grounds.
Images of thousands of protesters, joined by doctors with bullhorns and outraged ambulance drivers, lionised the anti-government movement and contributed greatly to the regime's public relations woes outside Bahrain.
Several doctors have been arrested, among them a leading surgeon, Ali al-Ikri, who has been accused of having contact with foreign agents. Others claim to have been intimidated by security forces and prevented from leaving their homes.
"I live in a neighbourhood surrounded by colonels and senior officers," said one doctor, who did not want to give her name. "If I go out I will be followed. There is a real risk to my safety and those of my colleagues. I have been prevented from returning to work. When I left the hospital, it was in utter chaos."
Kuwait is to send a medical team of 40 specialists to be deployed inside the hospitals as the government looks for new ways to manage the vehement anti-regime movement.
"This is about us being sidelined and them getting in people who will stay on message," said another doctor. "I know for a fact that the wards will be tidied up and some of the patients moved. The Kuwaitis will report back in good faith that all is in order and that will be the official narrative."
The US state department demanded on Friday that attacks on hospitals stop. "We call on security forces to cease violence, particularly on medical facilities and personnel," it said.
The US secretary of state, Hillary Clinton, said the solution to the country's crisis could only come through political dialogue. "We have made clear that security alone cannot resolve the challenges facing Bahrain," Clinton told reporters in Paris. "Violence is not the answer; a political process is."
In the face of sustained international criticism, the strategy of the ruling dynasty has been to make Bahrain's crisis a regional problem, by inviting Gulf forces into the kingdom. Hundreds of troops from the six-nation Gulf Co-operation Council alliance were dispatched to Bahrain last week. Qatar said it had deployed troops and Kuwait has sent navy ships to patrol waters near Bahrain, where a maritime curfew has been ordered from 6pm-6am.
However, Saudi Arabia continues to take a regional lead in the crisis, insisting on a hard line against the predominantly Shia Muslim protesters who have defied the authority of the Riyadh-backed Sunni dynasty for two deeply destabilising months.
Regional repercussions continue, though, with new demonstrations in Iraq on Saturday against the Saudi role and strident criticism from Shia Islamic clerics, which have sharply raised the sectarian stakes in Bahrain, a majority Shia Muslim state.
At least 70% of Bahrainis are Shias. The establishment, however, is almost exclusively Sunni. The Shias have long complained that the status quo discriminates against them, denying them opportunities and access to decision-making.
"We are not waging war," said Bahrain's foreign minister, Sheikh Khalid bin-Ahmed al-Khalifa. "We are restoring law and order. It is a very volatile situation and in volatile situations you expect violence to happen."
A fourth Bahraini protester died on Saturday from wounds he suffered earlier in the week.
Relatives of another victim, IT technician Ahmed Farhan, said they saw him being executed as he lay prostrate on a street in the suburb of Sitra.
"They killed him in cold blood," said Ali Hassan Ali, a physical education teacher. "I was standing near him when he was shot. He fell, they chased us away and shot him in the head at point-blank rage with a bird-shot gun."
The victim's injuries were consistent with being shot in the head from close range.