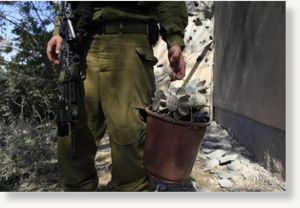 Palestinian militants fired two rockets into southern Israel on Sunday and Israeli troops killed two Palestinians in a new outburst along the volatile border with Gaza.
The violence came a day after Palestinian militants fired more than 50 mortar shells into Israel - the heaviest Palestinian barrage since a bruising Israeli military offensive in Gaza two years ago.
Both sides have largely honored an informal cease-fire since the 2009 war, in which about 1,400 Palestinians were killed, including militants and civilians. Israel says Hamas has rebuilt its arsenal, and a pattern of rocket attacks and Israeli reprisals has escalated in recent weeks.
The Hamas-allied Popular Resistance Committees claimed responsibility for Sunday morning's rocket attack, which caused no injuries or damage.
Militants in Gaza fired another rocket into southern Israel in the evening, exploding near the city of Ashkelon. No one was hurt.
Gaza Health Ministry spokesman Adham Abu Salmia said rescue teams recovered the bodies of two Palestinian men who were killed overnight along the border. The Israeli military said soldiers spotted two Palestinians crawling toward the border with what appeared to be a bomb. Soldiers called on them to stop, and opened fire after they continued moving toward the border. Such clashes are common.
Most rocket attacks from Gaza since the invasion have been carried out by small militant groups, but the Islamic group claimed responsibility for some of Saturday's mortar fire, which slightly wounded two Israelis.
Israel's U.N. ambassador, Meron Reuben, sent a letter of complaint to Secretary-General Ban Ki-moon and the Security Council, demanding that they condemn rocket and mortar barrages on Israel. "Such attacks constitute a clear violation of international law and must be addressed with the utmost seriousness," Reuben wrote.
Hamas has ruled Gaza since seizing power in a five-day civil war against the rival Fatah in 2007. As a wave of pro-democracy unrest reverberates through the region, both sides have faced growing calls to reconcile. Fatah, led by President Mahmoud Abbas, controls only the West Bank.
On Saturday, Hamas police assaulted protesters and journalists at a demonstration calling for reconciliation. New York-based Human Rights Watch criticized Hamas for Saturday's crackdown,and a similar one at a demonstration last Tuesday.
"It is a dismal reflection on Hamas that it is violently cracking down on peaceful demonstrators calling for political reconciliation," said Sarah Leah Whitson, Middle East director of Human Rights Watch. "This is just the latest instance of Hamas assaulting Palestinians' fundamental freedoms."