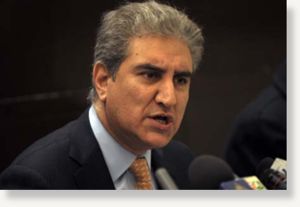 While asking the government to come clean about the mysterious release of US national Raymond Davis, former foreign minister Shah Mahmood Qureshi on Friday said that a few "rotten fish" cannot be allowed to pollute the whole pond and determine nation's fate.
"It is now time for honest, clean and visionary leaders to come forward and to remove the real rotten eggs from the party", Qureshi said in a defiant tone while speaking at "Meet the Press" programme of Lahore Press Club.
He held what he called "a few rotten fish" within the government responsible for the present mess the country was in, demanding cleansing of political parties and removal of rotten eggs from the PPP. "A very small group is bent upon damaging the whole democratic system", he said.
Despite reporters' insistence to expose those "rotten fish" and "rotten eggs" he was talking about, Qureshi confined himself to saying that "I am not carrying these in my pocket to show them to you". He said he was not here to point fingers at some body. He told the reporters that there existed a group within the PPP which lacked vision and futuristic approach. When asked if he saw any political change in near future, he said people wanted visible change in government's attitude and its style of governance.
Citing his recent visits to various parts of the country, he said that PPP workers were in a state of despair owing to wrong policies of their government. "Many told me that it was becoming highly difficult for them to defend their party's government at Mohallah and street level on different issues", he averred, adding that workers were annoyed with the government and party may suffer great loss in coming elections.
To a question, he denied that he was a rebellious, saying he had been telling all these things to his party colleagues in the cabinet from the very beginning. "A time will come when ideological party workers will vindicate my stance", he added.
Qureshi called upon the prime minister to take the nation into confidence on the Raymond's release besides giving a similar briefing to all the parliamentary parties before the Presidential address to the joint session of the Parliament on March 22. He said PPP workers should also be taken into confidence over the issue when they gather at Garhi Khuda Bakhsh on the occasion of ZA Bhutto's death anniversary on April 4.
He said it was imperative that government should establish that the whole process leading to Raymond's release was transparent and that heirs of Faizan and Fahim were not coerced into accepting Diyat money to forgive the killer.
He questioned why the government sought three-week time from the court if everything was going to be transparent regarding the issue. He suspected that government sought that much time for back door maneuverings. The ex-foreign minister was of the opinion that existing trust-deficit between the US and Pakistan will further increase after this episode.
To a question, he said that war on terror was not in country's interest. "Our innocent citizens are being killed on almost daily basis and country is undergoing loss of billions of rupees due to our involvement in the war", he observed, adding that loss suffered by Pakistan was far greater than that of Nato forces fighting inside Afghanistan.
"Who paid the Diyat? People want to know since the US Secretary of State has categorically denied paying blood money. "It is a sad reflection that Diyat law was used as a political tool", he maintained.
Qureshi also pointed out that if the Diyat was negotiated without any coercion and in full conformity with the Sharia law then why was there this silence from the families of the victims, why are they in hiding, why were their houses locked? Qureshi further stated that the Raymond Davis issue did not pertain to just two or three families, as it had become an issue of the whole nation.
QURESHI MEETS MUNAWAR: Shah Mahmood Qureshi has said the nation was disappointed and there was great resentment against the rulers over the release of Raymond Davis.
Talking to the newsmen after meeting Jamaat-e-Islami ameer Munawar Hasan at Mansoora on Friday, he said that release and immediate departure of Davis had raised several questions that needed to be answered. Munawar Hasan appreciated Qureshi for raising the issue of immunity for Raymond Davis.