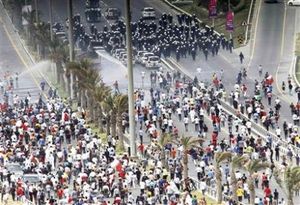 Manama - Forces from neighboring Gulf Arab countries will help maintain order in Bahrain, Arabiya TV reported on Monday, and an adviser to Bahrain's royal court said their forces were already on the strategic island.
"Forces from the Gulf Cooperation Council have arrived in Bahrain to maintain order and security," Nabeel al-Hamer, a former information minister and adviser to the royal court, said on his Twitter feed.
Gulf Daily News
, a newspaper close to Bahrain's powerful prime minister, reported on Monday that forces from the GCC, a six-member regional bloc, would protect strategic facilities.
A Saudi official said Monday that more than 1,000 Saudi troops, part of the Gulf countries' Peninsula Shield Force, have entered Bahrain where anti-regime protests have raged for a month.
The troops entered the strategic Gulf kingdom on Sunday, the official told AFP, requesting anonymity.
"GCC forces will arrive in Bahrain today to take part in maintaining law and order," said.
"Their mission will be limited to protecting vital facilities, such as oil, electricity and water installations, and financial and banking facilities."
The website of Bahrain's
Alyam
newspaper, which is close to the Al-Khalifa royal family, said Monday that forces from the six-state Gulf Cooperation Council were expected to enter Bahrain to help boost security.
The reports come after Bahraini police clashed on Sunday with mostly Shiite protestors in one of the most violent confrontations since troops killed seven protesters last month.
Iranian Response
Iranian Foreign Minister Ali Akbar Salehi responded to GCC's move by demanding that Bahraini leaders be wise and not use violence in their handling of anti-government protests, the state-run Fars news agency reported.
Salehi said the Bahraini authorities should avoid using "violence and force against the population", adding that Iran expects "the Bahraini government to be wise in responding to the demands of protesters and respecting their rights."
Although there were no signs Shiite-led Iran was behind unrest in the Gulf kingdom or elsewhere in the region, Tehran would likely work to meddle in Bahrain's politics amid sectarian tensions, Gates said.
"I expressed the view that we had no evidence that suggested that Iran started any of these popular revolutions or demonstrations across the region," said Defense Secretary Robert Gate.
Violence
The Financial Harbor business complex was blocked off by protesters on Sunday a day after more than 200 people were injured there in clashes between riot police and demonstrators, residents said.
Britain's foreign office cited reports that the Saudi National Guard will enter Bahrain as it urged Britons to avoid all travel to the mainly Shiite archipelago, where the Sunni monarchy is under mounting pressure to reform.
"The risk of further outbreaks of violence has increased," it said in the note issued late Sunday.
Witnesses said Shiite-led protesters continued to hold a sit-in at Pearl Square just outside the financial district, while others were blocking the main highway leading to the business district.
Crown Prince Salman reiterated the government's offer of a national dialogue on deep-rooted reforms but not at the expense of security and stability, state news agency BNA reported late Sunday.
The prince supported the creation of a parliament with full powers, and also pledged to tackle corruption and sectarian tensions.
But he warned that "legitimate demands should not be carried out at the price of security and stability."
The United States condemned the violence.
"We urge the government of Bahrain to pursue a peaceful and meaningful dialogue with the opposition," White House spokesman Jay Carney said.
Bahrain -- home of the U.S. Fifth Fleet -- has become a regional financial hub as it seeks to diversify its economy away from a dependence on diminishing oil revenues.
King Hamad also reiterated an offer of dialogue with the main opposition groups, which have refused to negotiate until the government resigns and dissidents are released from jail.