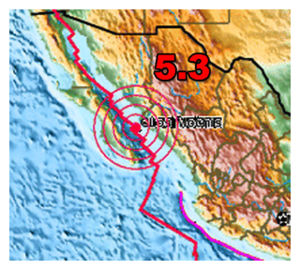 A 5.3-magnitude Earthquake hit the Gulf of California on Saturday morning.
TWS did not receive any reports of damage, however reports of light shaking were received in the city of Los Mochis, Mexico.
The quake hit under 50 miles west of Los Mochis at 7:11 a.m. local time, and struck the very center of the Gulf of California, on the plate boundary.
Sensors indicated the quake was a strike-slip, or side to side motion along the fault-zone.
A 4.7-magnitude aftershock was registered in the same location as the larger quake several hours later.
The USGS data for this quake can be viewed
here.
.