Seismic upgrading of public buildings in Vancouver has increased the chance that people and structures would survive a catastrophic earthquake like the one that hit Japan, but the city's mayor says more has to be done.
"There's more vulnerability than I certainly would like," Gregor Robertson told CBC News on Friday.
"We've been ... seismically upgrading schools and city owned buildings, provincially owned buildings for the last a number of years, but they're not all done yet," Robertson said. "There are still vulnerable buildings."
Skyscrapers were seen swaying ominously in downtown Tokyo in videos taken during Japan's 8.9 quake that struck mid-afternoon local time Friday.
None of the buildings toppled, although thousands of smaller structures were destroyed north of Tokyo and closer to the quake's undersea epicentre. Many of the buildings were swept away by the huge tsunamis that swept ashore.
But it's not certain that all tall buildings in B.C.'s largest urban area would fare as well as Tokyo's.
Similar distance to faults
The city sits a few hundred kilometres from major faults off the coast of Vancouver Island.
"We have exactly the same tectonic setup [as Japan]," said Simon Fraser University geologist John Clague. "We're basically facing a very similar loaded gun."
Key among the fault lines is one that has the Juan de Fuca plate slipping under the major continental plate.
Tectonic plates don't move smoothly; they slip and stick and while they're sticking, pressure is building up, said Clague.
"It will be a magnitude nine earthquake, most likely, about the same size. It will have exactly the same effects."
That's a concern for scientists at the University of British Columbia's Earthquake Engineering Research Facility, who question the viability of large buildings in a major tremor.
Vancouver General Hospital's Jimmy Pattison Pavilion, opened in 2003, is built to withstand a magnitude seven earthquake, said UBC Prof. Carlos Ventura.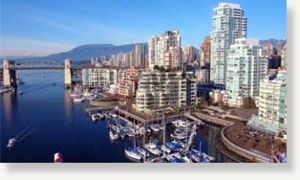 St. Paul's Hospital in downtown Vancouver, built 100 years ago, is not expected to survive a tremor of even that size.
"Typically, we design buildings that will perform for a 45-second earthquake because these are the typical earthquakes in the [B.C.] area," Ventura said.
The fate of smaller buildings is difficult to gauge.
Robertson points out that many single-family homes in southwestern B.C. are wood-frame construction, which can tolerate twisting and shaking better than brick.
"Wood-frame is so not nearly as vulnerable as what you see in some parts of the world," the Vancouver mayor said. "But ... our building code is not as strong as the Japanese building code."
No building regulations can withstand the forces of tsunamis, which were responsible for a huge amount of destruction in Japan.
Airport safety questioned
Many low-lying residential and industrial areas in B.C.'s Lower Mainland could be vulnerable to rushing waters.
Richmond, immediately south of Vancouver and the home of Vancouver International Airport, is virtually at sea level.
Both the city and the airport say that dikes surrounding the city would hold back the ocean in the event of tsunamis.
"We'd expect some cracks in the runway and some cosmetic damage and we'd probably be able to stay partially functional," said the airport's vice-president of operations, Don Ehrenholz.
But a local computer mapping company takes issue with that view.
Richmond likely would be largely underwater, said Tim Daly, president of Aero Geometrics Ltd.
Daly said at least 80 per cent of the city would be flooded.
"The dikes, I would say, are not tall enough and not strong enough and not resilient enough," he said.
Dikes surrounding the airport near Sendai, Japan, did not hold back a tsunami wall of destructive water and sludge following the earthquake.
Robertson said it might be difficult, but it is necessary to contemplate a super earthquake in southwestern B.C.
"Obviously, the scale of what just hit Japan is hard to imagine here and that would really test, I think, all of our systems."