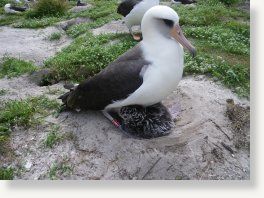 A Laysan albatross at least six decades into her life has stumped federal biologists by raising another chick.
U.S. Geological Survey and Fish and Wildlife Service scientists said the chick turned up in a February survey at the Midway Atoll National Wildlife Refuge in the Pacific Islands.
The bird, also known as Wisdom, "has sported and worn out 5 bird bands since she was first banded by USGS scientist Chandler Robbins in 1956 as she incubated an egg," says a statement.
"Just the idea of a bird 60 years old or more still bearing young is amazing," Bruce Peterjohn of the USGS Patuxent Wildlife Research Center in Laurel, Md., told
USA Today
.
Only one other wild bird is known to have lived to 61. Peterjohn said that Wisdom will tie that bird's record if she lives another year.
"Most Laysan albatrosses live to 30 or 40, just to make it to 60 is pretty incredible."
U.S. and Canadian scientists have banded about 64.5 million birds since 1920 and recovered bands from about 4.5 million of them.
According to the International Union for the Conservation of Nature, 19 of 21 albatross species are threatened with extinction, including the Laysan albatross, largely from pollution and predation by rats and other pests that prey on their young.
Although albatrosses mate for life, "I suspect she has gone through a few mates," Peterjohn told
USA Today
. He said that the chick found in February is still healthy and will likely stay on Midway until June or July.
"Albatrosses are indeed among the longest-lived birds in the world. Researchers had speculated that they could live this long, but what is really remarkable is that they not only can live this long, but still successfully reproduce. Particularly for a female which typically bears more of the reproductive cost than a male," wildlife biologist Lindsay Young of Pacific Rim Conservation in Honolulu told
USA Today
.
"It is also amazing that we know the age of this bird because of banding efforts that went on decades ago, and that the same individual was found almost 60 years later amongst literally millions of other birds breeding on the island."
"It really is a needle in a haystack. It makes you wonder how many other birds live this long, but we just don't get to find out either because we don't actively monitor them, or because we can't find the older individuals," said Young.