A witness reported seeing a car stopped in front of the body.
Police now know how a man's body got onto the 10 freeway early Monday morning.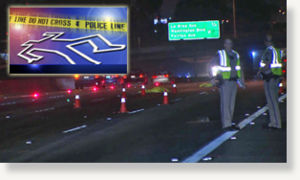 Authorities said the man wandered onto the 10 Freeway near Crenshaw Boulevard and was reportedly struck repeatedly by cars before a motorist pulled over and called the police and a sigalert was issued.
California Highway Patrol Officer Brent Leatherman said troopers received a call about the body of man in his mid-30s lying in the slow lane on the westbound 10 freeway at around 3:41 a.m.
A witness reported seeing a car stopped in front of the body.
That vehicle left the scene, according to the witness, who remained behind to try to divert traffic.
Even if it was an accident, Leatherman said drivers should always stop if they have struck a pedestrian.
He said there were no suspects in the possible felony hit-and run.
Investigators say they think the body was hit at least 20 times.
Leatherman said the man, who was not identified, was believed to have last lived at a rehabilitation center on 6th Street.
It is not known why the man wandered onto the freeway.
The coroner was called around 4 a.m., police said.
The CHP issued the Sigalert. The three right lanes were closed, as well as the Crenshaw Boulevard off-ramp. All the lanes were re-opened as of about 7 a.m.
Authorities say the victim is a male and is possibly White or Hispanic.
There was an earlier report of a pedestrian on the freeway, according to police, but it's not clear if that was the same person as the victim.
Investigators are still trying to figure out if the man was dead before he was struck by the first of the vehicles.