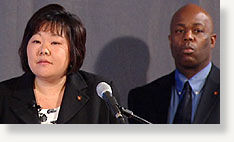 Spending shows 'blatant disregard': auditor general
Seven of the nine citizen board members of the Toronto Community Housing Corporation have tendered their resignations in the wake of a scathing report that uncovered questionable spending and millions in improperly tendered contracts.
The seven, including TCHC Chair David Mitchell, said they were stepping down at a public meeting Thursday morning.
"The appointees take full responsibility for the finding in the ... report," Mitchell said, adding the members felt they couldn't work with Mayor Rob Ford, who has demanded their resignations.
The two members who are staying on are tenant representatives who live in properties administered by the TCHC, the largest social housing provider in North America.
CEO Keiko Nakamura,
who was also asked to resign by Ford
, said in a statement issued Thursday afternoon she will stay on as "as long as I can contribute meaningfully to the company's goals."
Nakamura said Thursday six staff members have been fired and 14 have been disciplined. Four more staff are currently under investigation, she said. She also told CBC News that some of the money lost to staff expenditures has been recovered.
Ford, however, said he still wants Nakamura to quit.
"I think we have to start fresh with a whole new body," said Ford. "We're gonna get this board back on its feet and restore the trust because a lot of tenants are upset about what happened."
Ford wants to clean house
Coun. Frances Nunziata, the speaker at Toronto council, said Ford plans on introducing a motion asking that the entire 13-member board, which includes four city councillors, be completely disbanded.
Nunziata, who is among the councillors on the board, said the new members would then be re-appointed.
"It stops now. The party's over," she said.
Board members called the meeting after Jeffrey Griffiths, the city's auditor general, released a report Monday that revealed the agency awarded a three-year, $25-million refurbishment contract after receiving an unsolicited proposal and another $5-million contract that did not have appropriate documentation and appeared to be sole-sourced.
The report also detailed staff at the city-run housing agency expensed cruises, massages and Christmas parties exceeding $40,000.
Griffiths said at the board meeting Thursday that he was outraged after examining the agency's books.
"In my eight years as auditor general at the City of Toronto, I've never seen such a blatant disregard of policies and procedures as they relate to employee expenses," he said.
Meanwhile, the Canadian Union of Public Employee (CUPE) local that represents inside city workers is calling for TCHC to be brought under direct management of the city.
"We've always said there were efficiencies to be found if TCHC were directly managed by the City of Toronto," said Ann Dembinski, president of CUPE local 79, which represents 375 members employed at TCHC. "We believe there are significant savings to be found by eliminating duplicate layers of management bureaucracy."