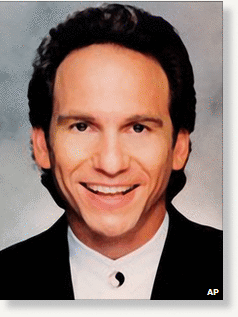 A New York man has been convicted of murdering an indebted motivational speaker who prosecutors said paid his attacker to stab him dead in his car.
Kenneth Minor testified that he held the knife against the steering wheel while author and business coach Jeffrey Locker plunged his body on to it.
Locker was deep in debt and hoped to stage his own murder so his family could collect $18m (£11m) insurance.
"This was murder for money, not a mercy killing," prosecutor Cyrus Vance said.
Minor faces life in prison after a jury found him guilty on Thursday of second-degree murder.
On 16 July 2009, Locker, 52, was found stabbed to death in his car in the East Harlem neighbourhood of New York City's Manhattan borough, his hands tied behind his back.
Minor was arrested five days later. Surveillance video showed him entering Locker's car the night of the killing and using the dead man's bank card later.
Appeal planned
A medical examiner testified Locker had been stabbed seven times by someone next to him in the car.
Prosecutors said Minor, a 38-year-old father of two with a history of drug arrests, had agreed to kill Locker for money after Locker approached him on a street, miles from his suburban home.
Locker had fallen victim to a Ponzi scheme and was deeply in debt. Prosecutors said he had purchased an $18m life insurance policy payable to his family.
Daniel Gotlin, Minor's lawyer, said he planned to appeal.
In his closing arguments, he said his client had been taken advantage of by a persuasive smooth-talker, adding that Minor was "no contract killer".