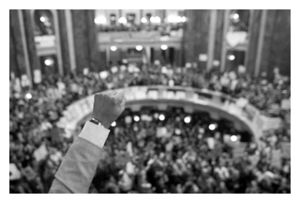 Last month, ThinkProgress reported that Wisconsin law allows any elected official who has served at least one year of their current term to be
recalled from office
. Today, a group of Wisconsin voters took the first step towards invoking this recall process. According to a Wisconsin Democratic Party e-mail that was obtained by ThinkProgress:
This morning citizens from around the state took the first steps by filing recall papers against key Republican Senators who have stood with Scott Walker and pushed his partisan power grab that will strip thousands of middle class teachers, nurses, librarians and other workers of their right to collective bargaining. And we learned just last night that their disastrous budget that will cut millions from our schools and universities. . . .

Make no mistake, these Republican Senators are vulnerable to recall for their radical partisan overreach. Senator Randy Hopper won his last election by just 184 votes. And Alberta Darling won her last race by only 1,007. By recalling just three of the eight Senators [Democrats] are targeting, [Democrats] can regain control of the Senate.
Under
Wisconsin law
, supporters of this recall effort now have 60 days to collect an amount of signatures "equal to at least 25% of the vote cast for the office of governor at the last election within the same district or territory as that of the officeholder being recalled." The amount of signatures necessary to trigger a recall will vary from district to district, but will range from about
15,000 to 21,000 signatures
per recalled senator.
If the supporters succeed in collecting enough signatures, the result is an effective "do over" election. The incumbent will automatically be a candidate in the election unless they resign from office, and Democrats and members of other political parties will be allowed to nominate opponents. The winner of a recall election is seated as soon as the election result is certified.
Wisconsin Gov. Scott Walker (R), who was inaugurated last January, will be eligible for a recall in January of 2012.
Update:
The SEIU
has signed onto the recall effort
as well.
Update:
The Chair of the Wisconsin Democratic Party suggests that his Party
will continue to back this recall effort
even if the eight targeted senators offer to withdraw their support for Gov. Walker's anti-union bill in order to quell the recall campaign:
Asked if Wisconsin Dems would drop their push to recall senators if they abandoned the drive to roll back public employee bargaining rights. Tate said he couldn't guarantee that, arguing that Walker's proposed budget cuts yesterday took this fight to a whole new level.

"In the past 24 hours, this has gotten so much larger than the rights of our public employees," he said. "This is much larger now than it was a week ago."