Drivers who light cigarettes in company cars are being hunted down by 'sniffer wardens' after a council teamed up with police to smoke them out.
Tendring District Council and Essex Police are so eager to catch employees having a puff behind the wheel that they've set up road blocks across the county.
Armed with nothing but a heightened sense of smell, the sharp-nosed enforcers lie in wait, sniffing inside the cars of suspected lawbreakers, and scouring for used ashtrays.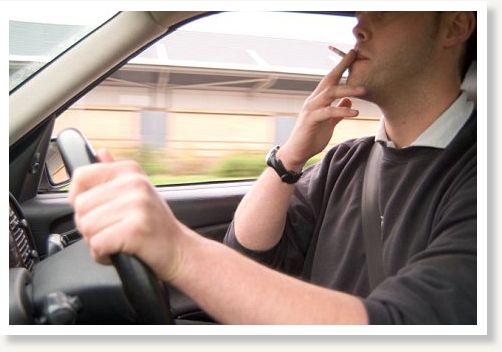 Anyone caught smoking in a company car faces a £50 fixed penalty fine or taken to court and issued with a £200 fine and conviction.
And if they discover signs that the driver may have been smoking, they can alert the company boss who too may receive a fine up to £2,500. Failure to apply no smoking stickers inside the work vehicle can carry a fine of up to £1,000.
Smoking in work cars was banned in 2006 under the Health Act. It made illegal smoking in any vehicle used predominantly for business which more than one person might use.
But council chiefs have been blasted for the 'ridiculously disproportionate clampdown'.
John O'Connell, of the TaxPayers' Alliance, told Small World News Service: 'This is a complete waste of money and a ridiculously disproportionate clampdown on what is a victimless crime.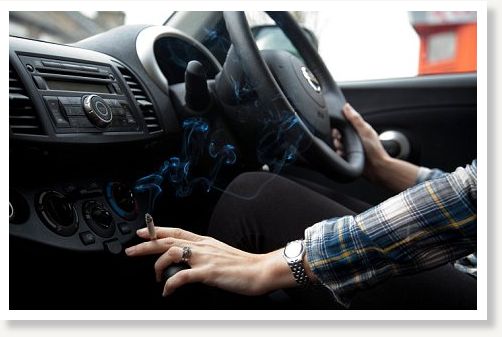 'Taxpayers want to see police out on the streets solving and preventing crime in their communities, not setting up road blocks to pull over plumbers for having a cigarette.'
He said the council should have bigger priorities, branding the scheme 'a total waste of resources'.
He added: 'The council must reassess its priorities and work much, much harder to provide value for money for hard-pressed families.'
But Ian Wilkins, environmental officer, defended the programme, saying: 'When the new legislation came into force on July 1 2007, it became illegal to smoke in virtually all enclosed public places and public and work vehicles.
'I think it is fair to say that most people understood the rules when it came to public buildings, but there was some confusion over the rules about smoking in vehicles.'
He said that it will be enforced throughout March, around National Non Smoking Day on March 9.
He added that the scheme was mainly about raising awareness but that action would be taken where and when Tendring District Council 'feels the case is appropriate'.