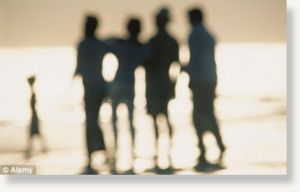 A woman who is set to become Britain's youngest grandmother at 29 said it was 'her worst nightmare' when she discovered her 14-year-old daughter was pregnant.
Kelly John said she always hoped Tia would not repeat her mistake and become pregnant at 14.
But after getting over the shock, the grandmother-to-be has vowed to do 'everything' to bring up the new baby.
Schoolgirl Tia and her baby-faced 4ft 11in 15-year-old boyfriend Jordan Williams have vowed to prove they can be good parents despite their age.
But Tia's father - Shem Davies - who split with her mother years ago, said at the same age he had expected to stay with Kelly forever and bring up his daughter.
He told the
News of the World
: 'I just didn't know how to be a dad - I was still a kid myself.'
The couple broke up at the age of 15 - and now his daughter has fallen pregnant he is hoping she will not do the same thing.
Tia and her boyfriend Jordan said they usually used condoms - and see the baby as a blessing.
The teenager, from Bridgend, Wales, was preparing to break the bombshell news to her mother when she found the positive pregnancy test results.
Kelly told the
Sunday
newspaper: 'My worst nightmare has always been that Tia would repeat my mistake and get pregnant young.
'(When I found out) I felt the colour drain from my face and all I could do was cry.'
Kelly, a £92 per week cafe waitress, have vowed to help her daughter to get through her GCSEs while the baby grows up.
Father-to-be Jordan is hoping to become a fitness instructor in the marines - as long as he gets good enough GCSE results.
When Tia's child is born in August there will be six generations of the same family still alive - including the newborn's 92-year-old great great great grandmother Mabel.
Tia's unemployed father Shem still lives six doors away and has a newborn 16 week old son with his 21-year-old partner.
Both the schoolgirl and her mother went to the Ynysawdre school in the Welsh town.
Kelly John lives with boyfriend Carl Zaccardelli, Tia and three other children from a marriage that collapsed.