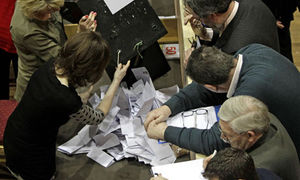 Enda Kenny, leader of Fine Gael, poised to become Ireland's prime minister if he can broker a deal with second-placed Labour
Ireland's most dominant political party, Fianna Fáil, is on the road to an historic and devastating defeat in the republic's general election.
Just months after accepting an EU/IMF bailout, the government is likely to be beaten into third place by a slew of independent candidates.
The scale of Fianna Fáil's losses are so great that a number of high-profile ministers, including finance minister Brian Lenihan, who negotiated the bailout, are in danger of losing their seats. His outgoing ministerial colleague Mary Hanafin also faces the possibility of being unseated in her Dún Laoghaire/Rathdown constituency.
Fine Gael is now poised to form a government, albeit with the likely support of the Irish Labour Party, according to an exit poll from RTÉ. Enda Kenny is certain to be elected Taoiseach but Fine Gael will still fall short of an overall majority.
According to RTÉ, Fine Gael took 36.1% of the vote, with Labour coming second with 20.5%. Fianna Fáil support is put at just 15.1%, by far its worst general election result, and will mean a massive loss of seats across the country - including a wipeout in the capital.
Sinn Féin's support is put at 10.1% - again a record in the Irish Republic - while the Greens are on 2.7%, which could see the party save some seats despite predictions they would be wiped out.
Independents and others got 15.5% of the vote - a high figure thought to be spread quite thinly given the number of candidates. Where those votes transfer could be crucial to the final outcome of counts across 43 constituencies.
The independents combined have pushed Fianna Fáil into fourth place - the party's worst performance since Éamon De Valera founded the party in the 1920s. In Dublin, Fianna Fáil support barely hit 8%.
The exit poll put support for Fine Gael lower than some opinion polls had suggested, where they had been tipped to secure as much as 40% of the popular vote, potentially allowing for a single-party government propped up by independents. The last RTÉ exit poll in 2007 proved to be 99% accurate when compared to the actual number of votes cast.