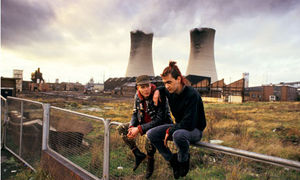 Figures show 15.6% of 16-24 year-olds were 'neets' at end of last year, as thinktank warns young people's unemployment likely to rise to 1.2m in next five years
The number of 16- to 24-year-olds not in education, work or training in England hit a record year-on-year high at the end of last year, official statistics show.
Some 938,000 young people in this age group were "neets" - not in education, employment or training - quarterly statistics from October to December reveal.
This is 43,000 more than the same point the year before and a year-on-year high since records began in 2005. It means 15.6% of all 16- to 24-year-olds in England were neets. This compares to just 13.1% in the last three months of 2007.
The latest statistics show the number of neets had fallen between the summer of last year and the end of the year. Between July and September, 1.03m 16- to 24-year-olds were neets - 17.1% of the age group.
However, the figures, published by the Department for Education (DfE), tend to follow a seasonal patern of lower rates in autumn after a peak in late summer, reflecting the academic year.
At the same time, the proportion of 16- to 18-year-old neets fell to a year-on-year low at 162,000. This is the equivalent of 8.5% of this age group. This has fallen dramatically since the same period in 2008 when 10.4% of this age group were neets.
Statisticians at the DfE said that more young people in this age group were in education and training, but fewer were in employment. Since 2003, there has been a 6.8 percentage point rise in the proportion of 16- to 18-year-olds in education and training, but a 15.6 percentage point drop in those in employment, they said.
Among 18- to 24-year-olds, the proportion of neets was also at a record high for the time of year, 18.1% compared to 17.1% at the end of 2009. This is the equivalent of 866,000 young people.
The thinktank Demos has warned that the number of unemployed 16- to 24-year-olds is likely to grow to 1.2m over the next five years.
In a study to be published in the next few weeks, the thinktank argues that some qualifications harm young people's chances of securing a job. National Vocational Qualifications at levels one and two, which are equivalent to GCSEs, do nothing to protect young people against unemployment, the thinktank has found.
Unemployment figures published last week showed that 965,000 16- to 24-year-olds are unemployed, the highest since records began in 1992.
A spokesman from the Department for Education said young people "bear the brunt in any recession or downturn". "That is why we are focused on tackling the deficit and promoting growth." He said the governement was funding 75,000 more apprenticeships than the previous government and was "committed to supporting all 16 and 17-year-olds to participate in education or training, and to raising the participation age to 18 by 2015".
Meanwhile, figures from the Higher Education Statistics Agency show 2.5m students were at universities in the UK in 2009-2010. This is a 4.1% rise on the year before. While the number of students from the UK rose by 3%, those coming from outside the EU to a UK university shot up by 11.7%.
Sally Hunt, general secretary of the University and College Union, said "instead of erecting barriers to study, such as tripling the cost of tuition fees, the government should be following the example of other countries and be investing in education, not cutting the very services young people need".