Discovery of volcano near Canby is an interesting geological find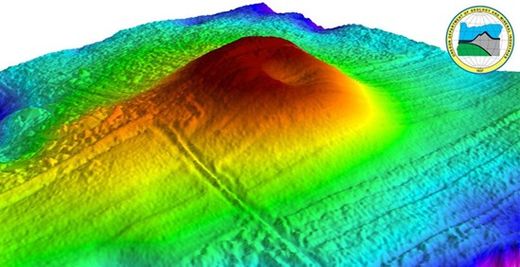 Hidden beneath a thick layer of silt on farm land near Canby, a piece of geologic history appears to have been uncovered.
Turns out, sophisticated imaging equipment may have found a volcano buried under Ice Age deposits, according to Ian Madin, chief scientist for the Oregon Department of Geology and Mineral Industries.
The site is between Central Point and Haines roads, just northeast of Canby. Using LIDAR, which employs laser technology to map the ground and provide a look at the topography in vivid detail, Madin believes an old volcano has turned up.
"I should make it clear that the reason I believe there is a volcano at the site is entirely because of the landscape that was revealed by the LIDAR," Madin said. "I have not been to the site, nor would I expect to find much evidence on the ground. "
This entire area has been buried beneath 30 to 40 feet of silt and sand by the great Ice Age floods."
In addition to two dimensional imaging, LIDAR can generate a 3-D perspective - "The feature has a very clear cone shape with a central depression, exactly what we see on small cinder cone volcanoes in the Cascades," Madin said. "We know from geologic mapping in the nearby Oregon City area that there are numerous small recent volcanoes that erupted between 1.2 and 2.4 million years ago, and this is likely one of those 'Boring volcanoes,' named for the town of Boring, that has been buried by the flood deposits.
"It certainly poses no threat to the community as it is almost certainly more than a million years old," Madin added. "It's another volcano in the Portland area, one of a couple dozen, and is almost certainly dead."
The LIDAR data collection is done on a regional basis with the emphasis on large areas to see what features they possess. Madin said Canby was included in the flight that mapped this area "because the city actually bought in as a partner. The city contributed $5,000 or $6,000 and that's why the coverage exists."
Madin made a careful analysis of the LIDAR data, looking for a unique pit feature that has shown up from Canby to Corvallis. Dubbed the "pits of mystery," these strange landscape phenomenon go no farther north than Canby.
But that wasn't what he found.
"I was looking for those circular features when I realized this was a mound with a pit in the middle of it," Madin explained.
A volcano discovery near Canby isn't a huge surprise because the Oregon City area "has a bunch of these volcanoes. They are more prominent there because they weren't buried by the Missoula Floods."
Now that the apparent volcano has been discovered, what comes next?
"Frankly, we aren't going to do anything with it," Madin said. "I've had students from various universities contact me about maybe doing something with it, but it's buried, it's on private land and it costs money, so there's a limit to what you can do.
"It's just a cool thing," he added.