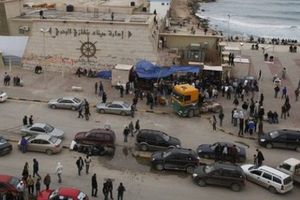 The Libyan government vigilantes and snipers struggle to regain control of the capital after pro-Gaddafi forces lost several cities to revolutionary protesters.
Reports say the revolution flag is now flying over Tajuraa city close to Tripoli. The western cities of Zwaara and Azzawiya are also under the control of the protesters.
This comes as more and more soldiers are now joining the popular revolution.
Anti-government protesters have also overrun the eastern province of Cyrenaica. This follows the fall of the second largest city of Benghazi.
Soldiers in the coastal town of Tobruk say Gaddafi's forces have lost control of the region. They say they no longer back the Libyan ruler. Tobruk lies close to the Egyptian border.
Many governments and international bodies across the world have reacted strongly to the crisis in Libya.
Reports widely indicate that government-led violence in the country has left at least one thousand protesters dead over the past several days.
Reports say the Libyan Revolution has gained momentum despite brutal crackdown by Gaddafi's regime.
The developments come as popular revolutions continue to sweep US-backed autocratic regimes across the Middle East and North Africa.