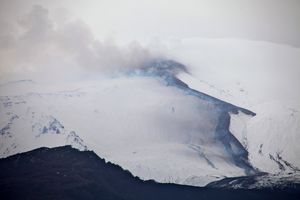 The second paroxysmal eruptive episode of the year 2011 from the Southeast Crater occurred on 18 February, 36 days after the previous episode (12-13 January 2011). The full duration of this episode was about 11 hours, with strong Strombolian activity and pulsating lava fountains. Although inclement weather precluded continuous direct observation of the activity, it seems that qualitatively this event was similar to its predecessor, but probably less energetic.
The paroxysm has taken place once more at the pit crater located on the lower eastern flank of the Southeast Crater cone, the only active eruptive vent at this summit cone since the summer of 2007.
The paroxysm was preceded by an explosive sequence presumably from the Northeast Crater, on the late evening of 16 February. Also in that case, direct visual observation was difficult due to the presence of cloud cover.
The onset of today's paroxysm was abrupt, and thus quite different from the long buildup phase that led to the episode of 12-13 January.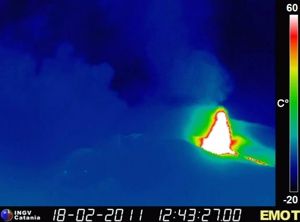 Starting shortly after 03:30 GMT (local time -1) on 18 February 2011, the thermal monitoring camera at the Montagnola (EMOT) of the INGV-Catania started recording thermal anomalies at the pit crater located on the lower east flank of the Southeast Crater cone; at the same time, the visible light camera at the Montagnola (EMOV) showed intermittent glow indicating Strombolian activity. During the following hours, extremely bad weather prevented direct observation of the phenomenon. Simultaneously with the onset of Strombolian activity, the INGV-Catania seismic network on Etna recorded a rapid increase in the volcanic tremor amplitude, which continued until about 14:30 GMT and then started to decline sharply. At 14:30 GMT, the eruptive episode was essentially over. A lava flow descended eastward, following the same path as that of the 12-13 January paroxysm, in the direction of the Valle del Bove. Light ash falls were reported (but remain unconfirmed as of late 18 February) from various areas on the flanks of the volcano.
At Stromboli, starting at 24:45:20 GMT on 17 February, a series of strong explosions from the northernmost vent of the crater area has led to the accumulation of hot scoriaceous material on the external northern flank of the crater. The latest of these strong explosions occurred at 09:12 on 18 February.