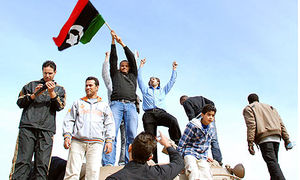 After ruling the country for 40 years, Col. Muammar el-Qaddafi seems to be losing his grip on power much more quickly than anyone could have imagined a few days ago. After six days of protests, clashes continued across the country but security forces seem to have largely retreated to strategic locations and
protesters appear to have taken control of Benghazi, the country's second largest city and the focus of protests, and activists celebrated on the streets
.
Al Jazeera hears word that "key cities" near the Egyptian border are now under the control of protests, which could mean that foreign journalists might soon be able to enter the country. Yet security forces aren't backing down just yet. The Associated Press hears word that armed pro-government supporters are circulating "in the streets hunting for protesters in Tripoli's old city."
At least 61 people have been killed in Tripoli as protests escalated overnight and extended into Monday, seemingly emboldened by a rambling address given by Qaddafi's son, Seif al-Islam el-Qaddafi, in which he warned of civil war and said that the protests could lead to "colonization" by the West. He did make some vague promises of reform as well, but it hardly seemed to be enough to satisfy the protesters after hundreds have been killed.
In what the
New York Times
says is "a sign of growing cracks within the government"
a number of senior officials appear to be turning their back on Qaddafi, including several members of the country's U.N. delegation as well as Libya's representative to the Arab League. The country's justice minister also appears to have resigned over the violence used against protesters
, reports Al Jazeera.
There are also reports that one senior military official has resigned and a top general has been put under house arrest for disobeying orders. Yet there are reasons to believe the protesters in Libya face a more uncertain future than their counterparts in the region, and that largely has to do with the role of the military. As the
Los Angeles Times
noted Sunday, Libya is a tribal country that has little experience with centralized government. The
New York Times
notes that the tribal divisions extend to the military, meaning that unlike in Tunisia and Egypt, the "
Libyan military lacks the cohesion or professionalism that might enable it to step in to resolve the conflict
."