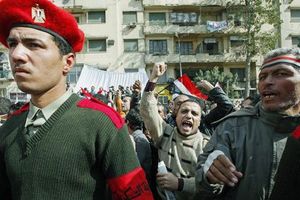 Egypt's military has warned people against staging fresh pro-democracy protests, saying it will not allow constant "illegal" strikes and demonstrations that have wreaked havoc on the economy.
The Egyptian Supreme Council of the Armed Forces, which has temporarily taken over power following the historic ouster of President Hosni Mubarak in the North African country, declared in its statement on Saturday that it will "confront" protests with "legal steps," the Associated Press reported.
The military has taken a hard-nosed approach toward continued mass pro-democracy protests at a time when massive walkouts by the public sector staff in protest against low wages and poor working conditions have raised the specter of new multi-million protests akin to the huge demonstrations that put an end to Mubarak's 30-year reign.
According to the military's statement, the warning is aimed at preventing the Egyptian economy from plunging into the abyss. However, labor strikes have continued as employees expressed fury at corruption and abuse of power by the cronies of Mubarak.
Four Egyptian top officials, including three ministers, were arrested last week on allegations of money-laundering and abuse of office.
On Friday, millions of flag waving Egyptians thronged into Cairo's Liberation Square -- the political nerve center in the capital -- to mark the end of Mubarak's rule, and to urge the military council to hand over power to a civilian government.
During the demonstration dubbed as the "Victory March," Cairo's prayers leader Sheikh Yusuf al-Qawadawi, who is an influential Egyptian cleric, said in an address to thousands of people that "Egyptians want to get rid of Mubarak's designated government."
The cleric also called on the military to free hundreds of pro-democracy protesters detained during the demonstrations.
"I say to the youth, protect the revolution and protect its unity. Beware of those who want to divide our ranks and those who want to corrupt your brotherhood," the cleric cautioned.
Protest organizers have stated that the revolution is still a work in progress and that they are hoping to keep people focused on the new regime amid concerns that the military rulers may fail to deliver on democratic reforms.
Egypt's main opposition group, the Muslim Brotherhood, has also urged Egyptian people to safeguard the revolution and remain relentless in the pursuit of their rights.