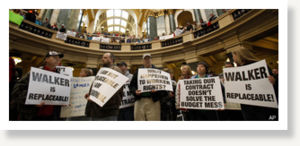 State workers in Wisconsin are protesting a statement by Republican Governor Scott Walker that, union reps say, amounts to a threat to use the National Guard to help break the public union.
Citing a $137 million budget deficit, Walker announced a plan last week which would essentially take away the public union's collective bargaining rights and slash benefits for state employees. Meanwhile, the share of corporate tax revenue funding the state government has fallen by half since 1981 and, according to Wisconsin Department of Revenue, two-thirds of corporations pay no taxes.
In the case of a walkout, Walker has put the National Guard on alert. Last week, he
told
reporters that
the guard is "prepared" for "whatever the governor, their commander-in-chief, might call for," such as staffing prisons if guards go on strike.
Wisconsin is one of a number of states facing severe budget cuts and difficult choices. But as
Bloomberg News
points out
, the biggest savings Walker is proposing have nothing to do with state workers or collective bargaining. Walker claims the state can save $165 million by the end of next June simply by restructuring existing debt.
"I'm just trying to balance my budget," Mr. Walker
told
the
New York Times
last week. "To those who say why didn't I negotiate on this? I don't have anything to negotiate with. We don't have anything to give. Like practically every other state in the country, we're broke. And it's time to pay up."
The Republican Party of Wisconsin has said that Walker's plan will save Wisconsin $30 million over the next three months and $300 million over the next two years.
Union leaders and labor scholars don't think Walker's move to crush the union is about the deficit.
"If it had simply to do with the budget there doesn't seem to be a need to eliminate collective bargaining," said Joseph McCartin, a labor historian at Georgetown University. "In other states where state's municipalities have faced difficult times, unions have helped negotiate the way forward."
"
Denying people's rights has nothing to do with the budget
," said Michael Uehlein, field director for the American Federation of Labor and Congress of Industrial Organizations (AFL-CIO). Uehlein views Walker's proposal as "
an excuse to go after his political enemies
" and "
the first step that will lead to drastically reduced wages across the state
."
Rick Badger, the executive director of AFSCME's Wisconsin 40 council, one of the most active unions in the state, characterized Walker's proposal as a "man-made disaster" that is "really about taking away people's rights and creating a second class citizen."
Badger will be out protesting the governor on Tuesday and Wednesday. He is adamant that a compromise could be reached and outraged that
Walker has made no attempt to sit down with the unions
.
"It's been painted as being all about the money but what this is really about is
workers who won't be able to negotiate health insurance, pension, vacation, hours of work, the arbitration process, just cause or discipline
," Badger said. "[Walker] claims there's nothing to bargain with. The message we need to get out there is that this could not be further from the truth."
Badger continued, "none of the unions involved in this have said that they would not be willing to make sacrifices. They have said that they are, and they will."
Public and private sector labor leaders in Wisconsin and around the country are joined in opposition of the bill. On a conference call on Monday, conservative and Republican employees across the state spoke out against Walker's plan.
"
The right to join a union and collectively bargain is a freedom that people have died to protect.
To have anyone threaten to wipe it away with minimal public debate, deliberation or discussion is unconscionable," said Janice Bobholz, an employee with the Dodge County Sheriff's Department and a resident of Beaver Dam.
The governor's proposal is especially painful given Wisconsin's long history of collective bargaining.
"[Walker's proposal] really represents a break in a 50 year tradition," McCartin said. "I think it's really significant and its implications are frightening for public sector unions not just in Wisconsin but over much of the country."
In Ohio, collective bargaining rights for state workers are
no more secure
. Republican Senator Shannon Jones has proposed a similar bill to Walker's, and last month,
Ohio governor John Kasich said that if employees strike, "they should be fired."
However, he has not yet threatened to call in the National Guard.
"It's hard to imagine why that had to be raised except to purposely stoke a fire," McCartin said. "It's a painful history that Wisconsin has had in that respect and to raise the specter of calling in the National Guard seems totally unwarranted in this case."
The last time Wisconsin called in the National Guard was in 1886.
The Guard, then called the State Militia were brought in to break a rally of Milwaukee workers advocating an 8-hour work day. The militia fired into a crowd of unarmed picketers; it's estimated that 5 to 7 workers were killed.
Badger is a veteran of the armed forces. He is astounded that the governor has suggested the Guard might be called in.
"I volunteered to defend the rights of citizens in this country," Badger said. It's really offensive -- not the National Guard soldiers -- just that
the governor could find the time and resources to put the National Guard on alert but not to sit down with any of the unions
."
In a press release put out by VoteVets.org, an outreach group devoted to veterans issues, a veteran and former National Guard member shared his unhappiness with the Governor's proposed solution to a union strike.
"Maybe the new governor doesn't understand yet - but
the National Guard is not his own personal intimidation force to be mobilized to quash political dissent
," said Robin Eckstein, a former Wisconsin National Guard member, Iraq War Veteran from Appleton, WI, and member of VoteVets.org. "The Guard is to be used in case of true emergencies and disasters, to help the people of Wisconsin, not to bully political opponents."
The governor's office did not immediately respond to request for comment.