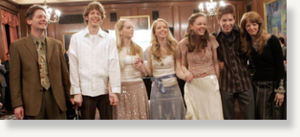 Salt Lake City - The patriarch of a prominent family musical group has been charged with sexually abusing his three daughters in a stunning revelation that was followed four days later by the father careening his Porsche off a 300-foot enbankment into an icy stream.
Keith Brown, whose daughters are part of The 5 Browns, survived the crash and faces one first-degree felony count of sodomy on a child and two second-degree felony counts of sexual abuse of a child, according to Fourth District Court records obtained Wednesday.
The 5 Browns are a classical piano group from Utah that features the three sisters and their two brothers. The Juilliard-trained siblings have achieved critical and popular acclaim while appearing on "Oprah," "The View" and other shows, and being profiled by "60 Minutes."
Their CDs have topped the Billboard classical music charts and their concerts often sellout in all 50 states and in Japan, Germany, France, Korea, Mexico and England.
The records filed Feb. 10 in the abuse case don't identify any victim by name or indicate the relationship between Keith Brown and the alleged victims.
However, Kimball Thomson, a spokesman for The 5 Browns, said the charges involve Brown's daughters and group members Desirae, 32, Deondra, 30, and Melody, 26. He declined to release further information on the women.
"We can confirm that Keith Brown has been charged with sexual abuse involving his daughters," Thomson said in an e-mail to The Associated Press.
The AP does not generally identify people who say they were sexually assaulted, but the Brown women have chosen to be identified and are cooperating with police, Thomson said.
Attorney Steven Shapiro, who represents 55-year-old Keith Brown, said he would not comment on the charges until Brown makes an initial court appearance set for Thursday in Provo.