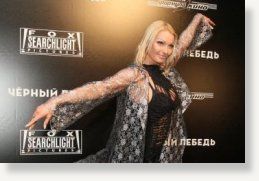 A scandal-prone Russian ballerina on Monday accused the Kremlin of pulling two television shows about her after she voiced sympathy for jailed oligarch Mikhail Khodorkovsky and quit the ruling party.
Anastasia Volochkova accused the Kremlin's chief ideologue Vladislav Surkov of ordering two talk shows to be taken off the air on Friday, linking this to an obscenity-strewn interview she gave about Khodorkovsky.
"My director told me that the
Let Them Talk
show ... was pulled on the personal order of Vladislav Surkov," the former Bolshoi ballerina wrote on her blog about the state-owned Channel One's highest-rated talk show.
She added that a second discussion show in which she was due to appear Friday,
NTVshniki
on NTV channel, was also pulled.
Speaking to AFP by telephone from the city of Samara on Monday, Volochkova said that she believed the decision to pull the shows was "revenge" from the ruling United Russia party, which she joined in 2003.
"When I joined the party, I never thought I would have this feeling: it's like I was a member of a gang and if I take a step back, there will be revenge," she said.
She said the Channel One show's host had phoned the channel's director to try to save the show and told her the decision had been taken on a "very high political level."
"I never thought that people on such a level would start taking revenge on me. It's a battle of unequal forces. I'm just a ballerina," she said.
In an interview with Radio Liberty earlier this month Volochkova slammed the United Russia party as "shit", saying its officials forced her to sign a letter supporting Khodorkovsky's first jail sentence.
She now wanted to leave the party because "it is false and because they deceived me," she told the station.
Soon afterwards, she declared her decision to quit, repeating in a blog entry that she had been pressured to sign the open letter, signed by 50 celebrities, without being shown the full text.
A spokeswoman for NTV said Monday that the channel would not comment on the pulling of the talk show.
Channel One was unable to give an immediate comment, but Kommersant business daily cited a spokeswoman saying the episode of the popular celebrity talk show failed to match the channel's "ethical standards."
Neither show contained any political statements, Volochkova said, with the Channel One show covered her 35th birthday party and the NTV show discussing a Russian Orthodox Church proposal to introduce a dress code for women.
Both shows were aired in Far Eastern Russia, which watches evening television as Moscow wakes up, but were pulled before they were due to air in Western Russia. They have been posted on YouTube.
A top United Russia official scoffed at Volochkova's words, saying that she had an over-active imagination.
"It's as if Surkov has nothing better to do than spend time on Volochkova," Alexei Chesnakov, a member of the party's public council, told Kommersant, putting the claim down to "the wild imagination of this woman."
Volochkova parted acrimoniously from the Bolshoi Theatre in 2003 after criticisms that she was too tall and heavy for her male partners. She has since forged a showbusiness career and dabbled in politics.
Source: Agence France-Presse