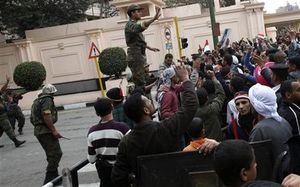 Egypt's new military rulers have signalled their intention to share power with civilians and amend the constitution rapidly by popular referendum, opposition activists and a British minister said on Monday.
Wael Ghonim, a Google executive detained then released for his part in the uprising that overthrew President Hosni Mubarak, said members of the military council had told him a plebiscite would be held on constitutional amendments in two months.
British Foreign Secretary William Hague said Prime Minister Ahmed Shafik had told him that he would reshuffle his cabinet in the coming week to bring opposition figures into the line-up appointed by Mubarak last month.
Earlier, the ruling Higher Military Council urged workers to return to their jobs and help restart an economy damaged by the uprising which ended Mubarak's 30-year rule but also sparked a growing wave of strikes.
In a televised address three days after Mubarak was forced to step down and hand power to the armed forces, a military spokesman appealed for national unity.
In "Communique No. 5" read out on state television, the spokesman said: "Noble Egyptians see that these strikes, at this delicate time, lead to negative results." It added that work stoppages were harming security and economic production.
The council governing the Arab world's most populous nation called on "citizens and professional unions and the labour unions to play their role fully".
Egypt's generals, who played an important role in the anti-Mubarak revolt by refraining from crushing protests, are trying to return life to normal.
Political analysts questioned how long it would take to amend the constitution, stage a referendum and then hold elections to the legislature and executive.
The comments by Ghonim and Hague indicated a willingness to move swiftly, though sceptics will want to see real action. Hague also said Britain had received a request from Egypt to freeze the assets of Mubarak, 82.
"Victory March"
Pro-democracy leaders say Egyptians will demonstrate again if their demands for radical change are not met. They plan a big "Victory March" on Friday to celebrate the revolution -- and perhaps to remind the military of the power of the street.
Using their new-found freedom of expression and protest, angry employees on Monday rallied in Cairo and other cities to complain about low pay and poor working conditions.
Protests, sit-ins and strikes have occurred at state-owned institutions across Egypt, including the stock exchange, textile and steel firms, media organisations, the postal service, railways, the Culture Ministry and the Health Ministry.
Workers cite a series of grievances. What unites them is a new sense of being able to speak out in the post-Mubarak era.
Hundreds of employees demonstrated outside a branch of the Bank of Alexandria in central Cairo on Monday, urging their bosses to "leave, leave!" in an echo of an anti-Mubarak slogan.
At least 500 people staged a wage protest outside the state television building.
The military cleared the last few dozen protesters from Cairo's Tahrir Square, nerve-centre of anti-Mubarak protests.
But shortly after that, hundreds of police officers marched through to demonstrate solidarity with pro-democracy activists and again stopped traffic flowing through the city centre.
In a sign of nervousness, Egypt's stock exchange, closed since January 27 because of the turmoil, said it would remain shut until stability returned to the economy, an official said.
The military rulers called a bank holiday on Monday after disruption in the banking sector. Tuesday will be a national holiday to mark the Prophet Mohammad's birthday.
In a communique on Sunday, the military suspended the constitution and dissolved parliament, moves welcomed by those who saw both as tailored to reinforcing Mubarak's iron rule.
Egyptians generally respect the 470,000-strong military, which receives about $1.3 billion annually in U.S. aid and was shielded from public criticism or scrutiny in the Mubarak era. But some in the opposition still mistrust its intentions.
The top U.S. military officer voiced admiration on Monday for the way Egypt's army had peacefully handled the power shift.
"I think they have handled this situation exceptionally well ... it's been done peacefully, and we have every expectation that that will continue," Admiral Mike Mullen said.
Transition Timeframe
Free and fair elections will be held under a revised constitution, the military said. But it gave no timetable beyond saying it would be in charge "for a temporary period of six months or until the end of elections to the upper and lower houses of parliament, and presidential elections".
"The Egyptian regime is still there, still controlled by old generals," political risk consultancy Stratfor said.
"They have promised democracy, but it is not clear that they mean it. If they mean it, it is not clear how they would do it, certainly not in a timeframe of a few months."
As the "Revolution on the Nile" sent shockwaves around the Middle East, troubling global financial markets worried about oil supplies, there were clashes in both Bahrain and Yemen, neighbours of the world's biggest oil exporter Saudi Arabia.
In Tehran, too, police fired teargas at demonstrators.
Algeria said on Monday a 19-year-old state of emergency there would be lifted in days, brushing off concerns that recent protests could escalate as in Tunisia and Egypt.
Egypt's army said it would lift the country's own hated state of emergency, implemented after the 1981 assassination of Mubarak's predecessor Anwar Sadat by Islamist soldiers and kept in place by Mubarak to stifle dissent. It has yet to say when this will happen, troubling pro-democracy campaigners.
"Old Soldiers"
"The week began with an old soldier running Egypt. It ended with different old soldiers running Egypt with even more formal power than Mubarak had," Stratfor said.
Any transition to democracy will be fraught with difficulty, and old ways of doing things may die hard in a country where the ruling party routinely rigged elections and candidates used bribery, hired thugs and dirty tricks to ensure victory.
Existing registered parties are mostly small, weak and fragmented. The Islamist Muslim Brotherhood, which under the now suspended constitution could not form a party, may be the best organised group but its true popularity has yet to be tested.
Its strength worries some in the United States, which backed Mubarak, as well as in Israel, for which Mubarak's Egypt was an important ally in a predominantly hostile region.
Ghonim said the army wanted young Egyptians to set up new political parties for the forthcoming elections. "The army encouraged youth to start serious steps to establish political parties that reflect their ideas and opinions," his report said.
The army has pledged to uphold Egypt's international obligations, which include a peace treaty with Israel.