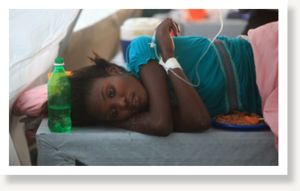 The Russian hygiene service is ready to send its specialists to cholera-hit Haiti alongside an international expert group. The epidemic has claimed the lives of over 4,000 people since it began in October last year. At present, the dangerous disease is reported to be spreading across neighboring Caribbean countries.
Having first appeared as far back as the 16th century, cholera outbreaks turned into a global challenge some 300 years later, in the early 19th century. The epidemic started in India and was then brought by merchant caravans to Russia, Europe and Africa. The world survived at least seven cholera pandemics which hit absolutely every continent.
Fighting the disease in Haiti today are a total of 36 health centers staffed by both local and foreign doctors. The trouble is that the epidemic may break those national boundaries as the warm season approaches, independent epidemiology and vaccination consultant Sergei Romanchuk says.
The disease is spreading throughout Caribbean Basin countries. In Venezuela, the number of ill people exceeded 100 - all of them got infected at a wedding in the neighboring Dominican Republic. Three fatalities were reported yesterday alone. Moreover, four people from the US, who attended the same wedding, fell sick upon their return home, Sergei Romanchuk said.
Russia's Chief Hygiene Inspector Gennady Onishchenko called on tourists to abstain from visiting the Dominican Republic, comparing such travels with "walking through a minefield" due to the constant risk of picking up cholera.
Members of our country's trade and hygiene watchdog, Rospotrebnadzor examined over 20,000 passengers and 219 crewmembers of 123 aircraft arriving in Russia from the epidemic-hit Caribbean Islands. Although no cholera cases have so far been detected, Gennady Onishchenko does not rule out that the disease may infiltrate Russia at any time.
It appears that this time the world has encountered a new breed of this infectious illness. A conclusion to that effect was drawn by a group of experts at a Boston hospital led by Dr. Matt Waldor. Their report was published in
The New England Journal of Medicine.
The American researchers deciphered the Vibrio cholerae genome extracted from the blood of two people infected in Haiti and compared it with the genomes behind the cholera outbreaks in Peru (1997) and Bangladesh (1971 and 2008). Test results were more than distressing: the Haitian cholera strain carries three genetic mutations.
In one of his recent statements, Chief Hygiene Inspector Gennady Onishchenko stressed that the world is "on the brink of the first cholera pandemic in the 21st century." He believes that the recently established UN independent commission should conduct a thorough probe into the virus's characteristics, given that it appears to be differing fundamentally from all those previously registered on the planet.