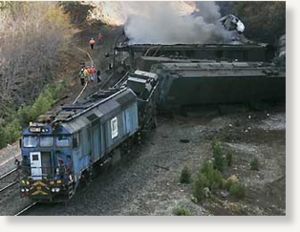 No one was injured Tuesday when 22 mostly empty CP Rail cars derailed near Carmangay.
Kevin Hrysak, CP Rail spokesman, said three of the cars contained building materials and 19 were empty. The 54-car train was en route to Calgary from the U.S.
The derailment occurred in a rural area at 8:06 a.m., about two miles south of Carmangay near Range Road 234 and Township Road 134, about a mile east of Highway 23.
Township 134 east near the derailment from Highway 23 and Range Road 234 south from Township 134 to Township 132 will be closed for three days as CP rail crews work to clean up the derailment. It has been determined that the train engineer and the conductor followed proper emergency procedures during the incident.
"We're co-operating with all agencies involved, but the cause is still under investigation and I haven't had any indication as to what the cause was," Hrysak said.
Hrysak said it's too early to speculate about whether the sudden change in temperatures affected the tracks, going from deep-freeze conditions to several days above zero and back to the -20s all within two weeks.
"We obviously co-operate with Transport Canada and with the Transportation Safety Board in their investigation, and sometimes they can take anywhere from three months to a year to come back with a cause," Hrysak said.
"It's because of the amount of investigations they do in the transportation industry."
A number of agencies responded, including Vulcan RCMP, County of Vulcan Fire Department, County Peace Officers, CP police and all CP derailment investigators.
Investigators said there was no damage to private property.
Hrysak said the line was closed at least for the day Tuesday, and other trains scheduled for the day were detoured. He said that section of track isn't one of the busier ones, and usually accommodates three or four trains a day.