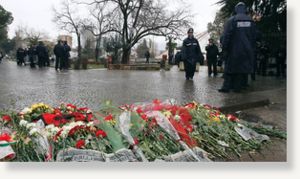 Tens of thousands of demonstrators have started a silent protest in the Albanian capital Tirana, a week to the day after clashes during an opposition rally killed three.
The demonstrators, headed by the leadership of the opposition Socialists and the families of the victims, started a march on the government buildings. People continued to pour into the downtown area near the government, bringing traffic in central Tirana to a standstill. Many protesters carried flowers.
Cick
here
to read the rest of the article.