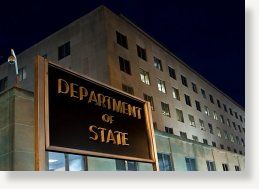 The State Department Monday issued an updated warning on the "continuing threat of terrorist actions" for US citizens worldwide, and a second advisory
cautioning travel to Britain
.
"Current information suggests that Al-Qaeda and affiliated organizations continue to plan terrorist attacks against US interests
in multiple regions
, including Europe, Asia, Africa, and the Middle East," said the advisory, which updates the last Worldwide Caution post from August 2010.
The State Department warned that militant groups could target areas where US citizens may gather in large numbers, such as sporting events, hotels, or places of worship.
Attacks could involve a variety of tactics "including suicide operations, assassinations, kidnappings, hijackings, and bombings," said the statement.
In another warning the State Department cautioned US citizens traveling to or living in Britain, due to a "continuing high level of terrorist threat."
The agency also noted that targets could include subway and rail systems, but may include transport hubs in a number variety of European cities -- citing the January 24 Moscow airport bombing, which killed 35 people.
Source: Agence France-Presse