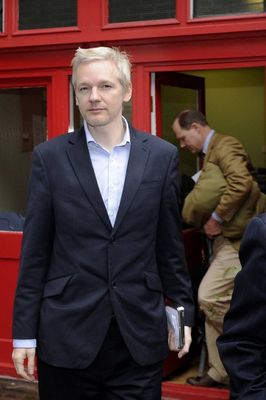 * WikiLeaks founder told reporters files should not be censored before they were published, new book alleges
* Amnesty International said naming Afghans risked 'deadly ramifications'
* Assange so scared of the CIA he disguised himself as a woman
Julian Assange said U.S. informants named in secret cables 'deserved' to be killed and initially refused to redact their names, a new book has revealed.
WikiLeaks published thousands of names of Afghans in 77,000 classified war files put on the whistle-blowing website, attracting criticism from international charities and governments.
In later releases of secret U.S. embassy cables in November around 15 per cent of files were withheld to protect lives and every file was checked before release.
Amnesty International said in a letter to WikiLeaks last year that all names in Afghan war logs should be redacted.
'We have seen the negative, sometimes deadly ramifications for those Afghans identified as working for or sympathizing with international forces,' it said.
Assange's apparent gung-ho attitude in an early meeting to naming to naming U.S. informants stunned his media collaborators, the new book claimed.
The title said he told international reporters: 'Well, they're informants so, if they get killed, they've got it coming to them. They deserve it.' The book continues: 'There was, for a moment, silence around the table.'
The allegations were made in a new book published today by the
Guardian
timed to coincide with another title released by the
New York Times.
It also reveals that Assange was so worried that he was being followed by U.S. intelligence services that he disguised himself as a woman, it has been revealed.
The 6ft 2in 39-year-old donned a wig as he tried to get away from people he thought were following him.
Journalists he worked with would use special mobile phones to talk to him which they would quickly dispose of to avoid their calls being monitored.
WikiLeaks: Inside Assange's War on Secrecy
, published by the Guardian, the
New York Times' Open Secrets: WikiLeaks War and American Diplomacy
lay bare their interactions with Assange.
The mercurial Australian is described as 'like a smelly bag lady' in the
New York Times
book and a man with 'a bit of Peter Pan in him'.
Journalists who have dealt with Assange claimed he skips around like a child at times, doesn't always wash and is both sensitive and volatile.
Bill Keller, executive editor of the
New York Times
, revealed that one reporter told him that Assange's behaviour had been very strange.
'He was alert but dishevelled, like a bag lady walking in off the street, wearing a dingy, light-coloured sport coat and cargo pants, dirty white shirt, beat-up sneakers and filthy white socks that collapsed around his ankles,' he wrote.
'He smelled as if he hadn't bathed for days.'
The Australian went to 37 different schools in his childhood but left without any qualifications.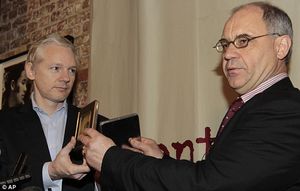 When he was found guilty of hacking as a teenager, the young man was depicted as a loner by the Australian court who heard that his 'computer is his only friend',
The Guardian
revealed.
As he tried to flee to his Norfolk bolt-hole last November he dressed up as an elderly woman to avoid capture.
James Ball, who works for WikiLeaks, says in
The Guardian's
book 'You can't imagine how ridiculous it was. He'd stayed dressed up as an old woman for more than two hours.'
Mr Keller wrote that the erratic WikiLeaks boss stunned reporters when he began skipping after a formal meal, the
Independent
on Sunday reported.
He explained: 'One night, when they were all walking down the street after dinner, Assange suddenly started skipping ahead of the group... (two journalists) stared, speechless.
'Then just as suddenly, Assange stopped, got back in step with them and returned to the conversation he had interrupted.'
The U.S. newspaper's relations with the 39-year-old became rocky at times - and three journalists believe they had their own computers hacked into after a falling out.
Mr Assange's dealings with the
New York Times
became tense after they published the
Iraq War Diaries.
The WikiLeaks founder thought the newspaper censored too much information at the request of the White House although editors insisted that they did it to ensure lives were not put at risk.
Mr Assange, who is currently out on bail and living in a Norfolk mansion, faces a two-day extradition hearing on February 7 and 8 over sex assault charges in Sweden.
Another book will be published by one of Assange's own workers next month titled Inside
WikiLeaks: My Time at the World's Most Dangerous Website.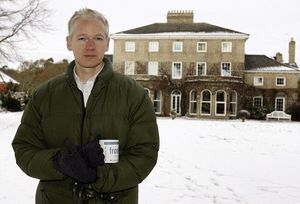 The 304-page title has been written by Daniel Domscheit-Berg, who was the co-founder of the whistle-blowing which started in 2006.
An advanced copy of the publicity blurb said: 'The fact that a project this powerful is under the sole control of someone with Julian Assange's personality structure is a tangible danger to informants and collaborators.
'Our trust was abused, we were threatened, misled and intentionally kept in the dark. It is not for nothing that many who have quit refer to him as a "dictator" . . .
'Justified, even internal, criticism - whether about his relations with women or the lack of transparency in his actions - is either dismissed with the statement, "I'm busy, there are two wars I have to end" or attributed to the secret services' smear campaigns.'
Domscheit-Berg has set up his own website OpenLeaks which is supposed to be more transparent.
Bradley Manning, who allegedly supplied the army diary files, and Rudi Elmer, an ex-banker who has reportedly given files on tax evaders to WikiLeaks are both in jail.
Mr Elmer was arrested by police in Zurich after apparently giving Mr Assange two CDs in London reputedly containing the details of up to 2,000 well known tax evaders.
The list includes 40 politicians and various celebrities - and the names could be published within days once they are verified.