She heard them, smiled, and tears welled up in her eyes.
The caravan carrying Rep. Gabrielle Giffords swept past cheering crowds Friday as she left the hospital in Tucson, Ariz., where she dazzled doctors with her recovery from being shot in the head two weeks ago, and was moved to Houston for rehabilitation.
Children sat on their parents' shoulders as the motorcade passed. Many waved. Others carried signs wishing "Gabby" well.
"It was very emotional and very special," said Dr. Randall Friese, who traveled with Giffords.
By Friday afternoon, after a 930-plus-mile trip that doctors said went flawlessly, Giffords was in an intensive care unit at Texas Medical Center, where a new team of doctors planned to start her therapy immediately.
After several days of evaluation, she will be sent to the center's rehabilitation hospital, TIRR Memorial Hermann.
Giffords has "great rehabilitation potential," said Dr. Gerardo Francisco, chief medical officer of Memorial Hermann.
"She will keep us busy, and we will keep her busy as well," he said.
The first thing is to determine the extent of Giffords' injuries and the impact on her abilities to move and communicate. She hasn't spoken yet, and it's unknown whether she will suffer permanent disabilities.
A gunman shot Giffords and 18 other people on Jan. 8 as she met with constituents outside a grocery store in Tucson. Six people died. The suspect in the attack, Jared Loughner, 22, is being held in federal custody.
Since she was hospitalized at University Medical Center in Tucson, Giffords has made progress nearly every day, with characteristically cautious surgeons calling her improvement remarkable.
Each new press conference seemingly yields a few more details about the Giffords that her family knows.
Tracy Culbert, a nurse who accompanied Giffords and the congresswoman's husband, Houston-based astronaut Mark Kelly, on the flight, described her as being captivated by a ring on Culbert's finger. The nurse took it off and Giffords put it on her own hand.
"She was taking it off my hand and I asked if she wanted to see it," Culbert said.
Asked how she felt about leaving Giffords on Friday to return to Arizona, Culbert replied, "Do you want me to cry?
"She's a very gentle person," Culbert said, "and her personality is coming out with her touches, the way she touches us, the way she looks at us, and I am very lucky to know her."
Then, she added: "I have a lot of hope for her, and I know she's going to do great."
Doctors said Giffords will stay in the intensive care unit for now because she has a drain to remove fluid buildup in her brain. She was going to begin rehab immediately, with a session scheduled for Friday afternoon.
Because part of her skull was removed during surgery, a specially made helmet was made to protect her brain. Friese said Giffords' husband asked them to make another one - with the Arizona flag on it.
"We immediately got one the next day," Friese said.
Specialists ranging from physical and occupational therapists to speech therapists and psychologists will give a slew of tests to see what she can and cannot do.
They'll determine the strength of her legs and her ability to stand and walk; the strength of her arms, and whether she can brush her teeth or comb her hair; whether she can safely swallow on her own; how well she thinks and communicates - not just her ability to speak, but also to understand and comprehend.
While she is moving both arms and legs, it's uncertain how much strength she has on her right side; the bullet passed through the left side of her brain, which controls the right side of the body.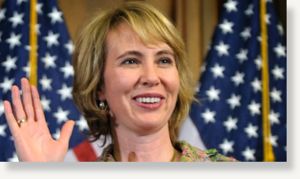 Giffords, 40, has some weakness or paralysis on her right side, said Dr. Dong Kim, neurosurgery chief at University of Texas Health. He said she can move her leg, and may be able to support herself, but "may not be able to move it when she when she wants."
During a half-hour exam, she didn't move her right arm, but Kim said he was told that she could move it.
Giffords will stay at Memorial Hermann until she no longer needs 24-hour medical care - the average is one to two months. Then she can get up to five hours a day of physical and other rehab therapies as an outpatient.
The transfer from Tucson was a major milestone among many that Giffords has already passed.
Before they left the hospital, Giffords' husband tweeted: "GG going to next phase of her recover today. Very grateful to the docs and nurses at UMC, Tucson PD, Sheriffs Dept....Back in Tucson ASAP!"
For some along the route to the airport, the sight of her motorcade seemed like a prayer answered.
Bundled into an ambulance, Giffords slipped away from the hospital, leaving behind the grief and hope embodied in the cards, candles and carnations at a makeshift memorial on the front lawn.
Marine veteran Al Garcia waited anxiously along the route to the airport, his Harley Davidson motorcycle at his side. He wanted to join the back of the caravan to show support for the woman who visited his neighborhood to ask about residents' concerns.
"It's through all of these prayers that she's leaving in just two weeks," Garcia said.
"The community has just come together so much - all walks of life, no matter what party you belong to," he said. "They've all come together to show their support for her and the other victims of this tragedy."
Moments later, he and a few other veterans joined the caravan.