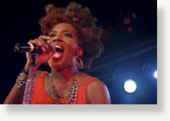 Soul singer Macy Gray has asked her fans on Facebook whether she should cancel planned concerts in Tel Aviv because of the "disgusting" way the Israeli government treats Palestinians.
International artists, entertainers and academics are under increasing pressure to boycott Israel because of Israeli actions in the Israeli-Palestinian conflict.
But Gray took the unusual step of asking Facebook followers what to do, in a posting that went up Monday.
"I'm getting alot of letters from activists urging/begging me to boycott by NOT performing in protest of Apartheid against the Palestinians," she wrote.
"What the Israeli government is doing to the Palestinians is disgusting, but I wanna go. I gotta lot of fans there I don't want to cancel on and I don't know how my NOT going changes anything. What do you think? Stay or go?"
After receiving almost 4,000 often impassioned messages in just four days, Gray has announced via Twitter that she would indeed sing in Tel Aviv next month.
"Dear Israel fans. Me and the band will be there in 20 days. Can't wait. See you then. Peace," she wrote in a Tweet.
Israelis and Palestinians have been locked in conflict for six decades, with U.S.-led initiatives to bring about a negotiated settlement making little head way over the years.
Palestinians accuse Israel of operating a de-facto apartheid system in the occupied West Bank, where they want to establish an independent state. Israel says Palestinian militants are intent on destroying the Jewish State.
Singer-songwriter Elvis Costello, for example, canceled his planned concerts in Israel last summer because of what he called the "grave and complex" sensitivities.
Earlier this month, French singer Vanessa Paradis, who is married to actor Johnny Depp, canceled a February 10 concert in Israel. She said it clashed with an important meeting, but the Israeli media have speculated that it was a political decision.