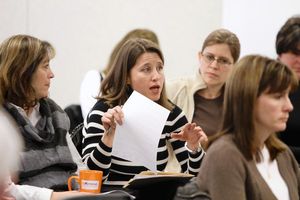 After parents protest, Elmhurst school says BMI data will no longer affect report card
Chicago, Illinois - Elmhurst students have long been checked on how long it takes to run a mile or whether they can do a pushup. But another physical fitness assessment tool has some parents fuming - one that aims at finding out whether their kids are too hefty.
A child's "body mass index," a computation of body fat based on height and weight, was one of six tests used at Hawthorne Elementary School to determine the physical fitness grade on a student's progress report.
But that practice ended abruptly Tuesday after about 25 parents met with school officials to express their displeasure with how the BMI data were being used. One mother broke into tears as she described how it affected her fourth-grade daughter.
Quickly responding to those concerns, school officials said they would stop using the index as part of a progress report grade. Hawthorne Elementary was the only school among the 13 in Elmhurst Community Unit District 205 to use the BMI that way, officials said.
"The current research does not support the use of BMI data for grading purposes," said Connie Chester, the school district's curriculum coordinator.
The district will continue BMI measurements in all its schools, but probably won't share the information with individual students at the elementary level, an official said. The district needs to continue the measurements because those statistics are needed when applying for fitness grants, she said.
Beth Fazzio has a daughter at the school, which two other daughters also attended. The BMI exam, she said, always raised concerns with them about their weight.
"They'd say, 'Am I too fat? We've got to run more and do more sit-ups,'" she said. "This (concern) is not coming from the home."
School officials said they had used BMI testing since 1986 and have not had many complaints. It wasn't immediately clear how long it has been used at Hawthorne as part of the progress report.
The BMI measurement is taken from District 205 students in fourth through 12th grades. It is measured in the fall and again in the spring to see if there has been any improvement. The BMI score is sent home with the students along with their progress report.
The measurement has raised parental eyebrows in other districts across the country, even as officials try to combat widespread obesity among children. School districts in Wyoming, Massachusetts and Arkansas also have adopted the BMI, but the response is mixed, according to the Web site publicschoolreview.com.
As is the case in Elmhurst, some parents have argued that health issues should be handled by a family doctor, without input from the school.
On Trib Nation
, our newsroom blog, reporter Annemarie Mannion talks about how she learned of this story, and how the comments below tie it into a wider conversation on the health of kids.
Angela Gemini said her son is a slim, tall fifth-grader at Hawthorne who plays hockey four nights a week, but received a BMI score that indicated he was at risk of obesity.
Gemini thinks it isn't a school district's place to evaluate a child's health and fitness.
"Who are they to be giving medical advice?" she asked.
The school district uses FitnessGram, a health and fitness assessment developed by The Cooper Institute, a Dallas-based nonprofit organization.
Marilu Meredith, FitnessGram program director, said the company encourages giving the BMI measurement in private settings and doesn't recommend using it as a part of a child's progress report.
Meredith said the BMI is an optimal test for schools to do because other ways to measure body fat, such as with calipers or bioelectric devices, are time-consuming and more intrusive.
She said students need to understand that their BMI can change as a result of them simply growing or losing weight.
"It's about learning about your height and weight and how they relate to each other," she said. "They also need to realize as they reach their maximum height and if they gain weight, their BMI will change."
In District 205, students are called in small groups of about five to the nurse's office and wait outside as others are weighed and measured, an official said.
Students are asked to develop personal fitness plans that identify ways they can improve their fitness levels.
One student from Elmhurst, who is now a junior at York High School, said she recalls having her height and weight measured in elementary school, but didn't find it intrusive.
"They did it, but nobody saw it but you," said Sam Baughman, who attended Hawthorne.
Bob McBride is executive director of the Illinois Association for Health, Physical Education, Recreation and Dance. He said he has used BMI as an informational guideline and tool for parents during his 34 years as a gym teacher for kindergarten to sixth grade, but never as part of a progress report.
"BMI is not an exact measurement of whether a kid is fat or not fat," he said. "It's the easiest measure that you can get without being too intrusive."
Tribune
reporters Hailey Branson-Potts, Erin Meyer and Dawn Rhodes contributed.