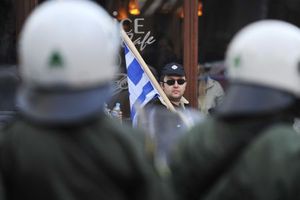 Athens police clash with demonstrators who were protesting against a planned fence on the Greek-Turkish border to stop illegal immigration.
Around 3,000 left-wing activists gathered in the city to demonstrate against xenophobia, when police clashed with rival groups for and against immigration in the Agios Panteleimon area, which has a large immigrant population.
Protesters carried banners reading, "Kick out the IMF (International Monetary Fund) and the EU (European Union), not migrants," and "No to racist attacks."
Extreme-right protesters, members of the Chrysi Avgi, or Golden Dawn also attended the protest.
Some left-wingers fled into a local church after throwing stones at the police. Officers reacted to the move by firing tear gas inside the church.
The security forces say both groups have been dispersed.
Both protests were a reaction to a state plan to build a 12.5-kilometer long fence on the common border with Turkey to curb illegal entries inside the country.
In 2010, around 128,000 migrants, mostly from South Asia, have illegally entered Greece, making the country the biggest destination for illegal immigration in the European Union.