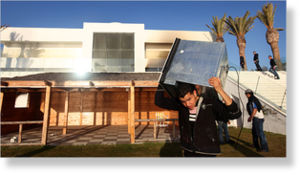 This ancient Mediterranean hamlet, advertised as the Tunisian St.-Tropez, has long been the favorite summer getaway of President Zine el-Abidine Ben Ali and his large extended family, many of whom have built vast beachfront mansions here with the wealth they have amassed during his years in power.
But their new and conspicuous riches, partly exposed in a detailed cable by the American ambassador and made public by WikiLeaks, have fueled an extraordinary extended uprising by Tunisians who blame corruption among the elite for the joblessness afflicting their country.
And on Thursday, idyllic Hammamet became the latest casualty of that rage, as hundreds of protesters swarmed the streets, the police fled and rioters gleefully ransacked the mansion of a presidential relative, liberating a horse from its stable and setting aflame a pair of all-terrain vehicles.
That outburst was just a chapter in the deadly violence that flared around the country and in Tunis, the capital, again on Thursday, making the government appear increasingly shaky. The mounting protests threaten not only to overturn a close United States ally in the fight against terrorism but also to pull back the veneer of tranquil stability that draws legions of Western tourists to Tunisia's coastal resorts.
President Ben Ali gave a hastily scheduled televised address on Thursday night, his second in the past week, and this time he appeared rattled. He no longer blamed foreign terrorists or vowed to crack down on protesters. Instead, he pledged to give in to many of the protesters' demands, including an end to the government's notoriously tight censorship, but rejecting calls for an immediate end to his 23-year rule.
"I am telling you I understand you, yes, I understand you," Mr. Ben Ali, 74, declared. "And I decided: total freedom for the media with all its channels and no shutting down Internet sites and rejecting any form of monitoring of it."
And he repeated a pledge he first made when he seized power in a bloodless coup: "No presidency for life." He vowed not to challenge the constitutional age limit of 75 for presidents, which would make him ineligible to seek re-election in 2014.
The immediate response to the speech appeared mixed. In at least one neighborhood of the capital, grateful Tunisians could be heard in the streets, ignoring an 8 p.m. curfew order, cheering the president. But others said his words meant little.
"These are the same promises he made last week, that he made a few years ago, that he made in 1987, but on the ground it is always the same," one person said, declining to be identified for fear of reprisals.
Security forces fired again at crowds of demonstrators who gathered in downtown Tunis; dozens have died so far in the crackdown on the protests, and it was impossible to confirm how many more died Thursday.
In what appeared to be a sign of division within the government or its forces, the military was withdrawn from the city by the end of the day, replaced by the police and other security forces considered more loyal to the ruling party and Interior Ministry.
There were calls for a general strike on Friday, and some people said they expected the protests to escalate when large groups of Tunisians spilled into the streets from their mosques after Friday Prayer. The government has shut down schools, universities and trains running to and from the city, leaving crowds of young people idle and many people with no way to get home.
Throughout a month of demonstrations, protesters have relied on Facebook and other social media to advertise and coordinate their actions, which started after a college-educated street vendor in a small provincial town burned himself to death in despair. (The police had confiscated his wares for lack of a permit.)
On Thursday morning a Facebook group called "The people of Tunisia are setting themselves on fire Mr. President" announced, in Arabic: "Today Hammamet: With our blood, with our souls, we sacrifice ourselves for the martyr."
By midday, hundreds of young men were in the streets of this coastal resort city. Several banks were in flames, including one adjacent to the police station. Some said that clashes with the police had begun here on Wednesday and that they had turned out to avenge the deaths of two protesters killed the day before.
Just as in other protests in recent days, the demonstrators called for President Ben Ali to step down. But many seemed even more angry at his second wife, Leila Trabelsi, and her family - "No, no to the Trabelsis who looted the budget," has been a popular slogan - and some said they still considered the president a good man brought down by the greed of his wife and her clan. Many refer to the president's extended relations simply as The Family or The Mafia.
Cables from the United States Embassy in Tunis that were obtained and released by WikiLeaks, including one titled "Corruption in Tunisia: What's Yours is Mine," sketch out some of the reasons. Before her marriage to the president in 1992, Ms. Trabelsi had been a hairdresser from a humble family with little formal education. But since then, many in her family, along with the president's, have ascended to the pinnacle of wealth, owning major stakes in many of Tunisia's most prominent companies.
"Seemingly half of the Tunisian business community can claim a Ben Ali connection through marriage, and many of these relations are reported to have made the most of their lineage," the ambassador, Robert F. Godec, wrote in a cable two years ago. "Ben Ali's wife, Leila Ben Ali, and her extended family - the Trabelsis - provoke the greatest ire from Tunisians," he added, noting that he heard frequent "barbs about their lack of education, low social status and conspicuous consumption."
He added, "Tunisians also argue that the Trabelsis strong-arm tactics and flagrant abuse of the system make them easy to hate."
Several demonstrators in Hammamet said it was not the country's economic problems but the corruption of the first family that they were truly protesting. Rioters storming the presidential family mansion in Hammamet gleefully filmed one another with cameras and other devices for circulation around the country, where such images have also helped goad the protesters. Most of the rioters storming the mansion described it as belonging to a member of the Trabelsi family, but a neighbor said it belonged to the president's uncle, Sofiane Ben Ali.
After breaking down the gate to the empty house, rioters pulled out two all-terrain vehicles and set them on fire. A horse kept by the family ran free in the mansion's yard, and young men on motorcycles did wheelies around rows of towering palm trees on the well-manicured lawn. (Two said the yard had previously been a public soccer field.) The crew of a Tunisian Coast Guard boat watched from the sea.
Two of the rioters said that fearful police officers had directed them away from their station and toward the mansion. "They said, 'Please, you go to the Trabelsis,' and it is logical," said Cheadi Mahamed, a 32-year-old protester with a job at the airport.
Like others in the crowd, he said he felt emboldened to speak publicly without fear of reprisals. "Now, we can say we what we want," he said. "It has started to change."
As evening approached, trucks of police reinforcements arrived. But they stood by as rioters began looting a shoe store, a toy store and a hotel.