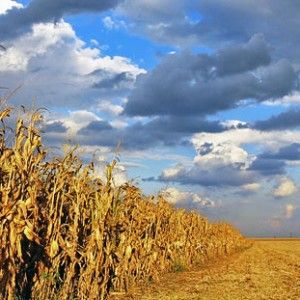 Rising food prices are stoking global inflation with many agricultural commodity markets driven higher by bad weather in key producing countries, a senior trader at JPMorgan said.
"If you break down the inflation numbers then the impact of food has been extremely significant," Will Shropshire, head of investor trading, product development and agriculturals for JPMorgan said in an interview.
"Increased prices for key agricultural food components (are) undoubtedly going to have an impact on inflation," he added.
High food prices have moved to the top of policymakers' agendas because of worries about the impact on inflation, protectionism and unrest.
The United Nations' food agency, the Food and Agriculture Organization (FAO), said last Wednesday that food prices hit a record high last month, above 2008 levels when riots broke out in countries as far afield as Egypt, Cameroon and Haiti.
Shropshire said the rise in agricultural commodities was largely fueled by supply issues.
"Pretty much all of those were driven by the weather," he said, citing drought in Russia last summer as among a series of adverse weather patterns for grains production.
"I think we are now at a level that reflects the tightness of the balance sheets (of the commodities). I think prices could increase if we hit more supply concerns," Shropshire added.
Shropshire does not believe that investor buying of agricultural commodities as an inflation hedge had been a key factor in price rises.
"It is food that is driving inflation rather than inflationary expectations driving people to invest in food," he said. "I don't think you have got many investors buying corn at these price levels because of broad concerns about global inflation."
Last year, U.S. wheat futures prices rose 47 percent, buoyed by a series of weather events including the drought in Russia and its Black Sea neighbors, corn rose more than 50 percent and soybeans jumped 34 percent.
Alongside bad weather in Australia, Europe, North America and Argentina, rising Asian demand is at the heart of the spike. China, for example, is expected to buy 60 percent of globally traded soybeans in 2011-2012, double its purchase of four years ago.
Land Assets
Catherine Flax, JPMorgan's CEO for Global Commodities EMEA, said in a joint interview that investors and even countries were looking at assets such as agricultural land.
"I do think investors are increasingly looking at physical assets, whether agricultural assets or infrastructure type assets, in part because of the expectations of inflation but also I don't think investors are entirely over the insecurity of the financial crisis," she said.
"I think that is a driver for people and countries buying agricultural land."
Shropshire said he was keeping a close watch on weather in South America. Concerns about dry weather in Argentina helped to drive up soybean prices earlier this month to the highest levels since September 2008.
"If we have any more shocks to supply the impact could get increasingly dramatic. If we have any shortfall in South America, for instance, then the impact because of the tightness could be significant," he said. "The current balance sheets are at quite critical levels and not dissimilar to where they were in 2007/08," he added.
The rise has been broad-based with wheat, corn, soybeans, cotton and sugar among those registering significant gains in recent months.
Shropshire said that could slow the normal positive supply response to rising prices.
"There are many shortages at the moment so the natural balancing act will take a bit longer to pan out than it would if we just, for instance, had a problem with cotton."