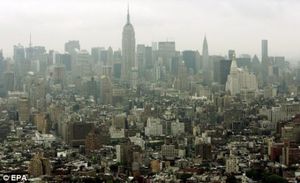 An earthquake under the Atlantic Ocean was felt by thousands of U.S. east coast residents yesterday - including people as far away as New York City.
The quake, which was recorded at 10.46am local time, measured 3.9 on the Richter Scale, according to the U.S. Geological Survey.
The event occurred about 80 miles south-east of Southampton, on New York's Long Island, and about 120 miles east of Toms River, New Jersey.
Most reports of light shaking came from Long Island and Connecticut.
Responses were also logged from New Jersey, upstate New York, Rhode Island, Massachusetts and as far away as West Virginia and Vermont.