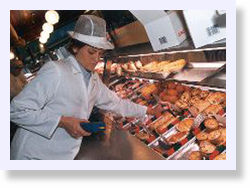 The voluntary quality control system widely used in the nation's $1 trillion domestic food industry is rife with conflicts of interest, inexperienced auditors and cursory inspections that produce inflated ratings, according to food retail executives and other industry experts.
Recent outbreaks of salmonella illness tied to contaminated eggs and peanuts have focused new attention on weaknesses in the decades-old system, which relies on
private-sector auditors hired by foodmakers
.
With food-borne illness and recalls rising, the use of private inspectors has grown rapidly in the past decade as companies try to protect themselves from lawsuits and tainted products that can damage their brand names. But experts agree that the inspections often do not translate into safer products for consumers.
"It's a business strategy, not a public-health strategy," said David Acheson, former assistant commissioner for food protection at the Food and Drug Administration under President George W. Bush.
The system has developed primarily because large chain stores and food producers, such as Kellogg's, want assurances about the products they place on their shelves and the ingredients they use in making food. To get that, they often require that their suppliers undergo regular inspections by independent auditors. This all takes place outside any government involvement and without any signals - stamps of approval, for instance - to consumers.
In fact, most foodmakers, even those with problems, sail through their inspections, said Mansour Samadpour, who owns a food-testing firm that does not perform audits. "I have not seen a single company that has had an outbreak or recall that didn't have a series of audits with really high scores," he said.
That was the case with Wright County Egg and the Peanut Corp. of America, both linked to recent salmonella-related recalls. Months before the outbreaks, the same inspection firm gave both companies "superior" food-safety ratings, the highest possible for that type of audit.
Industry experts say that under the best circumstances the audits can be useful. But a key failure is that auditors are typically paid by the companies they are inspecting, creating a conflict of interest for inspectors who might fear they will lose business if they don't give high ratings.
And for the food suppliers, "if the incentive is to pass with flying colors, it creates a disincentive to air your dirty laundry and get dinged and lose a customer over it," said Will Daniels, who oversees food safety for Earthbound Farm, which was at the center of a food-poisoning outbreak from tainted spinach four years ago.
The system is also marred by other flaws, industry experts say.
Food companies often choose the cheapest auditors to minimize the added expense of inspections, which range from about $1,000 to more than $25,000.
The foodmakers can prepare for audits because they often know when inspectors will show up.
And auditors have a range of experience and qualifications, from recent college graduates to retired food industry veterans. They sometimes walk through a plant, ticking off a checklist to produce a score, Samadpour said. Basic inspections do not typically include microbial sampling for bacteria.
"It's purely designed as a kind of hoop you have to jump through to sell to so-and-so," he said. "Any good audits are purely incidental."
Federal officials say they are aware that the audits are a "mixed bag," said Michael R. Taylor, the FDA's deputy commissioner for foods. The FDA has the authority but not the resources to routinely inspect the estimated 150,000 food-processing plants in the United States or the 250,000 facilities abroad that supply U.S. consumers.
Still, the agency has proposed expanding the role of private auditors by accrediting them to inspect imported food products. On the domestic side, under pending legislation, the FDA could get additional resources and power and shift more responsibility onto food producers.
Top ratings before recalls
At a
congressional hearing last month
into the outbreak of salmonella illness that has sickened at least 1,800 people, staff investigators revealed that Wright County Egg, one of two Iowa farms at the center of the August egg recall, had received a "
superior" rating from AIB International two months earlier.
AIB also gave a "superior" rating two years ago to Peanut Corp. of America, which federal investigators have accused of knowingly selling peanut products contaminated with salmonella bacteria that sickened hundreds and killed at least nine.
Peanut Corp. of America, which is the target of a criminal investigation, filed for bankruptcy protection in February 2009, saying it was forced to close because of extensive recalls of its products. An attorney for company president Stewart Parnell did not respond to a request for comment on Thursday.
A spokeswoman for Wright County Egg said the company will continue to use the auditor to inspect its egg-production facilities. "AIB is an excellent program," Hinda Mitchell said.
Wright County Egg also has said it is addressing conditions identified by FDA inspectors, who found piles of manure, live mice and dead maggots in company barns. AIB did not inspect the barns.
In a written response to questions, Brian Soddy, AIB's vice president of marketing and sales, said company audits are intended to give food manufacturers "guidance and education for improvement."
Producers have the ultimate responsibility, he said, adding that the audits are voluntary and not intended to replace any FDA regulatory inspections.
AIB said last week that it is reevaluating its "superior" and "excellent" rating systems because they "have led to confusion in the wake of recent incidents," Soddy wrote.
The company, one of the largest of the dozens of major auditors, conducts more than 10,000 audits of food manufacturing facilities annually, Soddy said.
According to the company's Web site, its auditors check for several factors, including proper storage and handling of raw materials, maintenance of equipment, buildings and grounds, and adequate sanitizing.
Thoroughness vs. cost
Industry experts say some "third-party" inspections can be rigorous. Those that audit using internationally recognized private benchmarks "are much more thorough," said Robert Brackett, former senior vice president of the Grocery Manufacturers Association. "But they're less likely to be used because they are much more expensive."
Some retailers include inspections as just one piece of their safety programs.
Costco, for example, has its own inspectors but also requires its estimated 4,000 food vendors to have their products inspected according to a detailed 10-page list of criteria. Private auditors must X-ray all products for "sticks and stones, bones in seafood - anything you can think of that might be in hot dogs, baked goods, outside of produce," said Craig Wilson, Costco's assistant vice president for food safety and quality assurance.
Auditors are required to notify Costco first if there is "an immediate food safety situation," Wilson said, rather than first notifying the supplier they are inspecting.
Costco maintains an approved list of about nine audit firms. The list does not include AIB.
Wal-Mart requires suppliers of private-label food products sold in its stores and Sam's Club to be audited using private internationally recognized standards.
In addition to conducting its own product testing, Giant Food requires its vendors to be audited from a list of about a dozen approved firms. The list includes AIB as well as other large auditors, among them Silliker Inc. in Chicago and NSF Cook & Thurber, a nonprofit group based in Ann Arbor, Mich.
Some companies that have been at the center of food-poisoning outbreaks say that, ultimately, private inspections are not enough.
"No one should rely on third-party audits to insure food safety," said Earthbound Farm's Daniels. Earthbound processed the tainted spinach that killed three people and sickened at least 200 in 2006.
Earthbound regularly received top ratings in third-party audits, he said, including one exactly a month before the tainted spinach was processed.
After the E. coli outbreak, Earthbound put in place an aggressive testing and safety program that includes outside audits but also requires Earthbound's own inspectors to show up unannounced to check suppliers. The company tests its greens for pathogens when they arrive from farms and again when they are packaged, he said.
The process adds 3 cents to the cost of each bag of spinach, he said.
Industry experts say the flaws in the current system will be difficult to fix as long as companies see food safety as an expense that cuts into profits.
Suppliers "will hunt down the fastest, cheapest, easiest and least-intrusive third-party auditor that will provide the certificate" that will allow them to sell their product, Acheson said. "Until that model flips, there will continue to be a false sense of security in terms of what these systems offer."
Research editor Alice Crites contributed to this report.