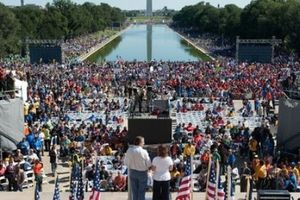 An estimated quarter of a million people have staged a rally at The Lincoln Memorial in Washington against US President Barack Obama's policies.
Some 250,000 protesters from all over the US attended the rally, themed 'Jobs, Justice and Education,' to mobilize those who support the Democrats to turn out and vote in the mid-term elections and demonstrate against the billions of dollars being spent on war instead of jobs.
With over 400 groups participating in the march and rally, it was a diverse crowd of democratic-leaning organizations demanding that the government improve public education, do more to protect civil and human rights, and end the spending on war.
"We have a large contingent ... here as part of an anti-war march to say, 'lets take the money out of war and put it in investing in America'," CODEPINK member Medea Benjamin told a Press TV correspondent in Washington.
The largest numbers, however, were from unions demanding Congress produce jobs for the high number of jobless Americans.
"We are here to say that we have had enough and come November 2, don't forget us because we will be in the booth and we are going to be voting for the people, who are going to be doing the right thing for the middle class," a Labor Union member at the rally told Press TV.
Brian Becker of the ANSWER Coalition also attended the rally. He said the people had believed there would be a significant change when they voted for President Obama back in November 2008.
"But the war in Iraq continues and the occupation in Afghanistan has advanced and there are thirty million people out of work, so people are connecting these issues."