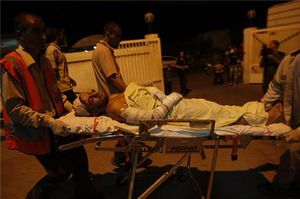 Israeli war planes have bombarded the southern Gaza Strip city of Khan Yunis and tunnels in the city of Rafah, leaving a number of people wounded.
At least one person was killed and three others were injured in the airstrikes in Rafah and one more is missing, a Press TV correspondent quoted witnesses as saying on Saturday night.
Israeli jets are still flying low over the Gaza Strip, and the Gazans are bracing for more attacks. Israeli forces also fired rockets at farmlands in Khan Yunis.
There were no immediate reports of casualties from the rocket attacks.
Israel has repeatedly launched air and ground attacks on Gaza since the deadly 22-day war it waged against the territory from late December 2008 to mid-January 2009.
Israel regularly pounds the network of tunnels underneath the border between the blockaded coastal enclave and Egypt, saying the Palestinian resistance fighters are smuggling weapons through the tunnels.
However, the Palestinians reject the accusations, arguing that the tunnels are their last resort for bringing in the basic necessities they have been deprived of for years under a crippling Israeli siege on the impoverished territory, which is home to about 1.5 million people.