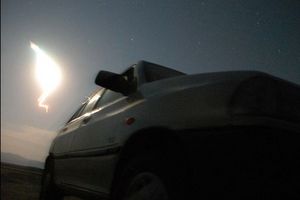 Iranian meteor shower enthusiasts have particularly enjoyed the August show put on by the Perseids, which was heralded by a brilliant fireball, streaking across the eastern sky.
The Perseid meteor shower reached its peak last week and announced its annual August arrival with a bright fireball over Iran's eastern cities.
Iranian astronomists say the fireball was caused by a meteor, as it struck Earth's atmosphere.
The fireball was observed by skywatching cameras operated by an Iranian space center, the Mehr News Agency reported.
This year's Perseid meteor shower peaked on the night of August 12-13 between midnight and dawn.
The fireball occurred low in the sky when it entered Earth's atmosphere above the eastern cities of Zahedan and Taftan.
Stargazers all over the world watch for the stunning display of the Perseid meteor shower -- an annual event that occurs in mid-August when Earth passes close to the orbit of the Swift-Tuttle comet.
The comet, which was discovered in 1862, and most recently observed in 1992, takes about 130 years to orbit the sun.