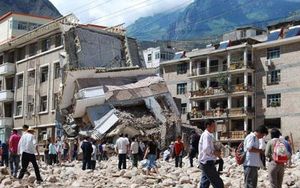 Landslides have raised the death toll in flood-hit Pakistan, cutting off roads and hampering aid efforts as rescuers battled to beat rains exacerbating the country's worst ever floods.
Washed-out roads in Pakistan's northwest made ground access to many of the 15 million flood victims impossible and many helicopters were unable to fly as heavy rains persisted, cutting off the entire Swat valley, officials said.
In the far north of the country, 28 bodies were recovered from rubble after landslides in Gilgit-Baltistan province caused houses to collapse Saturday.
Administrative official Mohammad Ali Yougwi said up to 40 people were feared dead after the landslides hit those living at the bottom of a mountain in the town of Skardu.
"We have recovered 28 dead bodies, there are more people buried under the rubble," said Yougwi.
With the floods sweeping south, rescuers also rushed to evacuate families in the poor southern farming belt of Sindh, where officials were readying for a deluge that could burst the banks of the swollen Indus river.
Prime Minister Yousuf Raza Gilani visited flood-hit areas of Sindh province, calling again for international aid as he said the disaster had spiraled beyond the government's capacity.
"Millions of people have suffered and still there is more rain and further losses are feared. I appeal to the world to help us, we are doing what we can," Gilani told reporters, as he urged those threatened by the "unprecedented" floods to move to safer areas.
"The government has done everything possible but it is beyond our capacity, we are facing an extremely difficult situation," he said.
Nine more people, including women and children, were reported killed in Khyber Pakhtunkhwa province by the floods, which the UN estimates have claimed at least 1,600 lives.
Across Khyber Pakhtunkhwa, head of flood relief operations Major General Ghayoor Mehmood said some 1,400 people have been killed, with 213 still missing.
"There were landslides at three different points, we have closed the roads to all types of traffic," said Adnan Ahmad, a provincial official.
The situation was worsening in the cut-off Swat valley as residents complained about severe food and fuel shortages.
"We are facing severe shortage of food. There is no petrol in the pumps and no food in the shops, the government is doing nothing for us," Malik AmirZada, a resident in the area, told AFP by telephone.
In the south, those uprooted from their homes in Sindh province have been moved to government buildings, schools and tents as the area braces.
The Indus river was rising rapidly and water had breached a canal in Tori Band village, forcing people to flee with their families on donkey and camel carts with whatever possessions they could grab.
"We have taken only some of our belongings, most of our household was left behind. We have nothing with us," Abdul Hakim, 30, a farmer leaving Tori Band, told AFP.
"Everything was under water, my field and my house, I have to start a new life," said Hakim, transporting his wife and five young children in a bullock cart.
Thousands of villagers were being evacuated from remote districts of northwest Sindh, with helicopters seen flying overhead.
Countries including Britain, China, Australia, France and the United States have pledged tens of millions of dollars in aid for victims of the nearly two-week disaster which has ravaged the largely impoverished, insurgency-hit country.
The flooding has threatened electricity generation plants, forcing units to shut down in a country already suffering a crippling energy crisis.
More than 252,000 homes are thought to have been damaged or destroyed across Pakistan and 1.38 million acres (558,000 hectares) of farmland flooded. It could be weeks before electricity is fully restored.