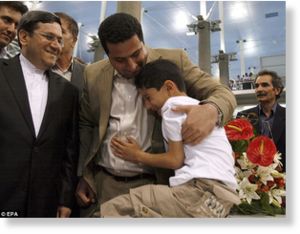 Returning home to a hero's welcome, this is the Iranian scientist who claims he was abducted by the CIA and pressured to lie about Tehran's nuclear programme.
Shahram Amiri had an emotional reunion with his family in Tehran yesterday, his seven-year-old son barely leaving his father's side. Amiri appeared to be wiping away tears in some photographs.
Amiri, 32, claimed he had been offered $50million by the U.S. to remain in America and 'spread lies' about Iran's nuclear work.
He repeated that he was kidnapped in 2009 when on a pilgrimage in Saudi Arabia and taken to the U.S.
The scientist also said Israeli agents were involved in interrogating him.
Washington has denied kidnapping Shahram Amiri and insisted he had lived freely in the United States.
A U.S. official said, however, that the United States, eager for details of Tehran's nuclear activities, had obtained information from him.
Asked why Amiri was going back, a U.S. official, who spoke on condition of anonymity, said the Iranian authorities could have put pressure on his family back home.
But Amiri, holding his seven-year-old son, said: 'My family had no problems'.
Officials also told the
Washington Post
that the CIA had paid Amiri $5million for his information - money that he can no longer access due to financial sanctions on Iran.
'Anything he got is now beyond his reach, thanks to the financial sanctions on Iran,' a U.S. official said.
'He's gone, but his money's not. We have his information, and the Iranians have him.'
The
Post
also claimed that officials were 'stunned' at Amiri's request to return home.
Tehran and Washington have traded accusations over the murky saga which has underlined deep mistrust between the two nations.
'Americans wanted me to say that I defected to America of my own will to use me for revealing some false information about Iran's nuclear work,'
Amiri, told reporters at Tehran's International Imam Khomeini Airport.
'I was under intensive psychological pressure by CIA... the main aim of this abduction was to stage a new political and psychological game against Iran.'
The United States and its European allies fear Iran is trying to build bombs under cover of a nuclear programme. Iran says it needs the technology to generate power.
The mystery surrounding Amiri fuelled speculation that he may have passed information about Iran's nuclear programme to U.S. intelligence. ABC News reported in March that Amiri had defected and was helping the CIA.
Wearing a beige suit, Amiri made victory signs as he hugged his tearful son and wife, who greeted him with other family members and a senior foreign ministry official, Hassan Qashqavi.
Qashqavi praised Amiri for his 'resistance against (U.S.) pressure during his 14 months of abduction'.
Iran says the CIA kidnapped Amiri, who worked for Iran's Atomic Energy Organisation. He surfaced at the Iranian interests section of the Pakistani embassy in Washington on Monday.
'Israeli agents were present at some of my interrogation sessions and I was threatened to be handed over to Israel if I refused to cooperate with Americans,' said Amiri.
Amiri said he had no valuable intelligence about the Iranian nuclear programme. 'I am an ordinary researcher ... I have never made nuclear-related researches,' the scientist said.
A man identifying himself as Amiri has variously said in recent videos that he was kidnapped and tortured; that he was studying in the United States; and that he had fled U.S. agents and wanted human rights groups to help him return to Iran.
Before his disappearance, Amiri worked at Iran's Malek Ashtar University, an institution closely connected to the country's elite Revolutionary Guards. Tehran initially refused to acknowledge Amiri's involvement in Iran's nuclear programme.
Three months after Amiri's disappearance, Iran revealed the existence of its second uranium enrichment site, near the central holy Shi'ite city of Qom, further heightening tension over the Islamic state's atomic activities.
The State Department said the United States did not kidnap Amiri, but it has not addressed whether another country might have abducted him and turned him over.