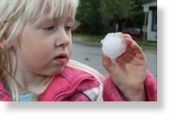 High winds, heavy rain, and most of all, large hail, left a swath of damage across some communities in Calgary and southern Alberta during a Monday afternoon marked by tornado and severe thunderstorm warnings. The forecast for tomorrow raises the possibility of a repeat performance.
To the east, tornado warnings were issued through the afternoon for areas ranging from Drumheller, through the Strathmore region and into south eastern Alberta counties as at least three storm cells moved through, bringing rain, hail, high winds and the threat of even more severe weather. At least one funnel cloud was spotted near Strathmore during the storm, prompting some to head to their basements to wait out the severe weather.
Environment Canada meteorologist Sandy Massey said more rain is expected, with some areas north of Calgary predicted to see up to 70 mm falling tonight and tomorrow. Wednesday is expected to be a bit drier, she said.
The sudden downpour and marble-sized hail forced Calgary Stampede visitors to flee for the exits or seek shelter in nearby buildings. Heavy winds sent cowboy hats scattering and the lucky few with raincoats braved the elements in search of food and entertainment.
Best friends Brittney Crosby and Jessica Whittington shivered in tank tops and shorts while they waited for the Stereos, a pop-rock band from Edmonton, to take to the Coca Cola stage after a weather-related delay. "I really don't care that it's raining and cold," said Whittington. "You have to expect it... this is July in Calgary."
The soggy conditions forced many to seek refuge in the BMO Centre, a boon for local vendors who welcomed the crowds.
Meanwhile, it was a quiet afternoon on the normally bustling midway, and some buildings saw minor flooding.
But Mother Nature didn't spoil the fun for happy children who splashed in massive puddles and enjoyed few lineups for rides and food. For Okotoks resident Eleanor Whitesmith, who brought her three granddaughters to the park, it was a perfect day. "We brought raincoats and umbrellas. It's maybe a little cooler than we thought it would be, but having fun no matter what," she said.