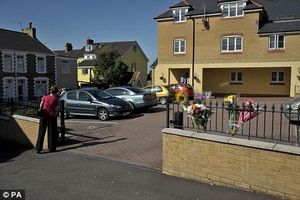 A girl of five has became the second child to die in a week after being trapped by an electric gate.
The youngster, who is Polish and has been named locally as Carolena, became caught in sliding automatic gates outside a block of flats in Bridgend, south Wales.
Paramedics rushed the little girl to the Princess of Wales hospital after the accident on Saturday evening, but she was dead on arrival.
The girl's death comes just seven days after six-year-old Semelia Campbell was killed by a gate in an almost identical tragedy in Moss Side, Manchester.
Carolena's parents were last night too upset to comment at their nearby three-bedroom semi-detached home. But a relative said: 'We're all devastated.'
Retired limousine driver Emlyn Griffiths, 71, who lives in the block of flats where the accident happend, said: 'Every resident who lives here has a remote control to operate the gates as they arrive home.
'The girl had been playing there most of the afternoon.
'A lady who lives here went to open the gate and the little girl just got jammed.
'It shouldn't happen though because there are sensors so that if anything is in the line of the beam then the gates will open themselves again.
'How she got trapped is unbelievable. I feel so sorry for her family.'
Mr Griffiths said he believed Sunday was supposed to be the Carolena's sixth birthday.
One neighbour who rushed to help the girl said: 'I was in my garden and could hear someone shouting, 'Somebody call an ambulance'.
'I came out and there was this little girl on the floor dressed all in pink, trapped in the gate,' she said.
'Someone came running up and we were trying to find the poor girl's mother. They're a lovely family.'
Neighbours tried to help the girl until an ambulance arrived.
The woman added: 'The paramedics came and did their best but she was unresponsive.
'This is absolutely devastating, just horrendous. You just don't expect a child to end up trapped between gates.
'Something should be done about those gates. They're only there to protect someone's parking space at the end of the day.'
It is understood the girl had been playing in the quiet residential street on her own when the gate closed at about 5.45pm on Saturday.
Grieving family friends yesterday laid cuddly toys and a dozen bunches of flowers at the tragic scene.
One card read: 'Such a special person who will always be remembered. Bless you and your family.'
Another said: 'Peddle your little bike as fast you can to heaven. Sleep tight little angel.'
The accident happened in the courtyard of a newly-built, three-storey of 12 flats called Brook Court in Bridgend, South Wales.
The modern apartments are just half a mile from Bridgend town centre.
The courtyard, with space for 12 residents' cars and four visitors' vehicles, is protected by a three-foot high, black metal gate.
It slides from left to right and is operated by a keypad.
The girl was taken to the town's Princess of Wales Hospital where she was pronounced dead.
A pathologist is due to carry out a post-mortem examination on Monday.
South Wales Police yesterday said an investigation was underway.
Officers are believed to be examining whether the girl operated the gate accidentally, or whether it was activated by a resident who needed it open to move their car.
Inspector James Dyson said: 'The next of kin are being informed and a file is being prepared for HM Coroner.'